Matthew Askins might meet all the state requirements in Michigan for a concealed carry weapons permit, yet he was still denied the license. Why? A county gun board deemed it so, according to the Grand Rapids Press.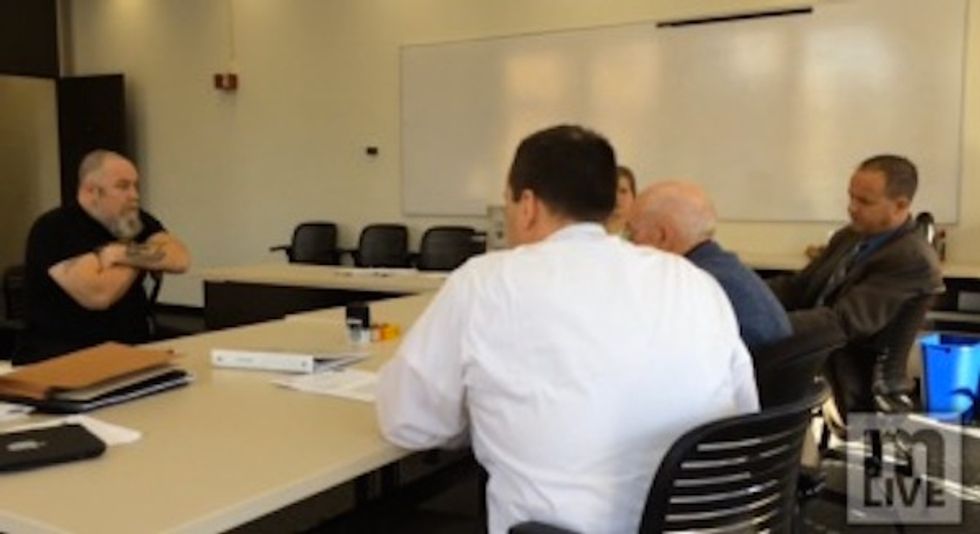 Matthew Askins interviews for a concealed carry weapon in Michigan before a gun board. Gun boards in the state will be eliminated by Dec. 1, according to a new law signed by the governor. (Image source: MLive)
Applicants for concealed pistol licenses in Michigan have to meet state law, which includes living in the state for at least six months, not being convicted of a felony or some misdemeanors, not being dishonorably discharged and so on. They also need to be approved by a county board.
That's all set to change at the end of the year though as Gov. Rick Snyder signed a bill this week that would eliminate gun boards to "streamline how we issue concealed pistol licenses," he said in a statement.
The bill was one of two Snyder signed Wednesday that lawmakers hope will shorten application periods and create a uniform system. The changes go into effect by Dec. 1, 2015. Snyder praised this legislation for "removing any unintended consequences that could have put domestic abuse victims in danger," a reason for which he vetoed similar legislation last year.
For Askins though, his application for a concealed carry permit was still decided upon by a county gun board. According to the Grand Rapids Press, Askins might not have a convicted criminal history but he has more than a dozen run-ins with the police:
The concealed weapons license applicant was questioned about allegedly hiring a hit-man to injure an ex-girlfriend in 1988, about various episodes of harassment and intimidation alleged by an ex-wife and about an ex-wife's personal protection order. The panel inquired about a suspected breaking and entering at an ex-wife's property, a suspected larceny from an ex-wife and a domestic dispute with a girlfriend.

"I've been with a lot of girlfriends and it just doesn't ever work," Askins explained during his Thursday, March 5, interview with the board.
Watch this footage from Askin's interview filmed by the Press:
The newspaper reported that Askin's application was denied unanimously, 3-0, by the board.
"It's crazy [to be denied] because I've had a couple little incidents," Askins told the Press. "I've never done anything wrong. Half the time, I called the police department. [Gun board members] are the ones that think they know it all. Those guys don't know what they're talking about."
Board member Wallace Duffin defended his decision to the newspaper, saying the permit was denied due to Askins' "pattern of behavior of 24 years."
In a separate article, the Grand Rapids Press reported another board member saying Askins will likely get his license under the new law if he reapplies when it goes into effect.
"If he doesn't have any of the disqualifiers, he would automatically be issued a license," Kent County Sheriff's Department Lt. Ron Gates told the newspaper. "You just try to use your best judgment [when interviewing applicants]. You lose some of the local discretion [under the new state law]."
—
Front page image via Shutterstock.