Thousands of drivers in Kentucky were stranded — some for nearly 24 hours — Thursday as up to two feet of snow crippled some areas.
The massive traffic jam stretched for about 26 miles. National Guard soldiers and emergency workers made safety checks on the frustrated travelers.
"You see miles and miles of tail ends and tail ends. It's not a very good sight," National Guard Spc. Jeriel Clark said as his group of soldiers handed out food and water while patrolling snowbound Interstate 24 in far western Kentucky.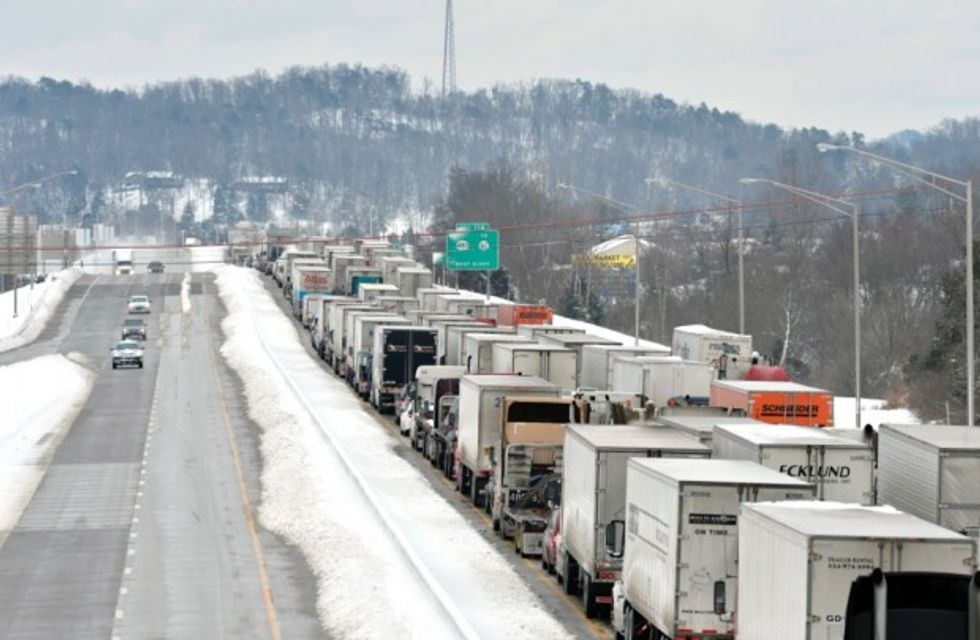 Traffic backs up as more than 50 miles of Interstate 65 southbound is shut down from the weather, Thursday, March 5, 2015, near Mount Washington, Ky. Kentucky State Police reported that the interstate will not reopen until Thursday evening. Kentucky has been walloped by a winter storm that has dumped nearly 2 feet of snow in parts of the state. (AP/Timothy D. Easley)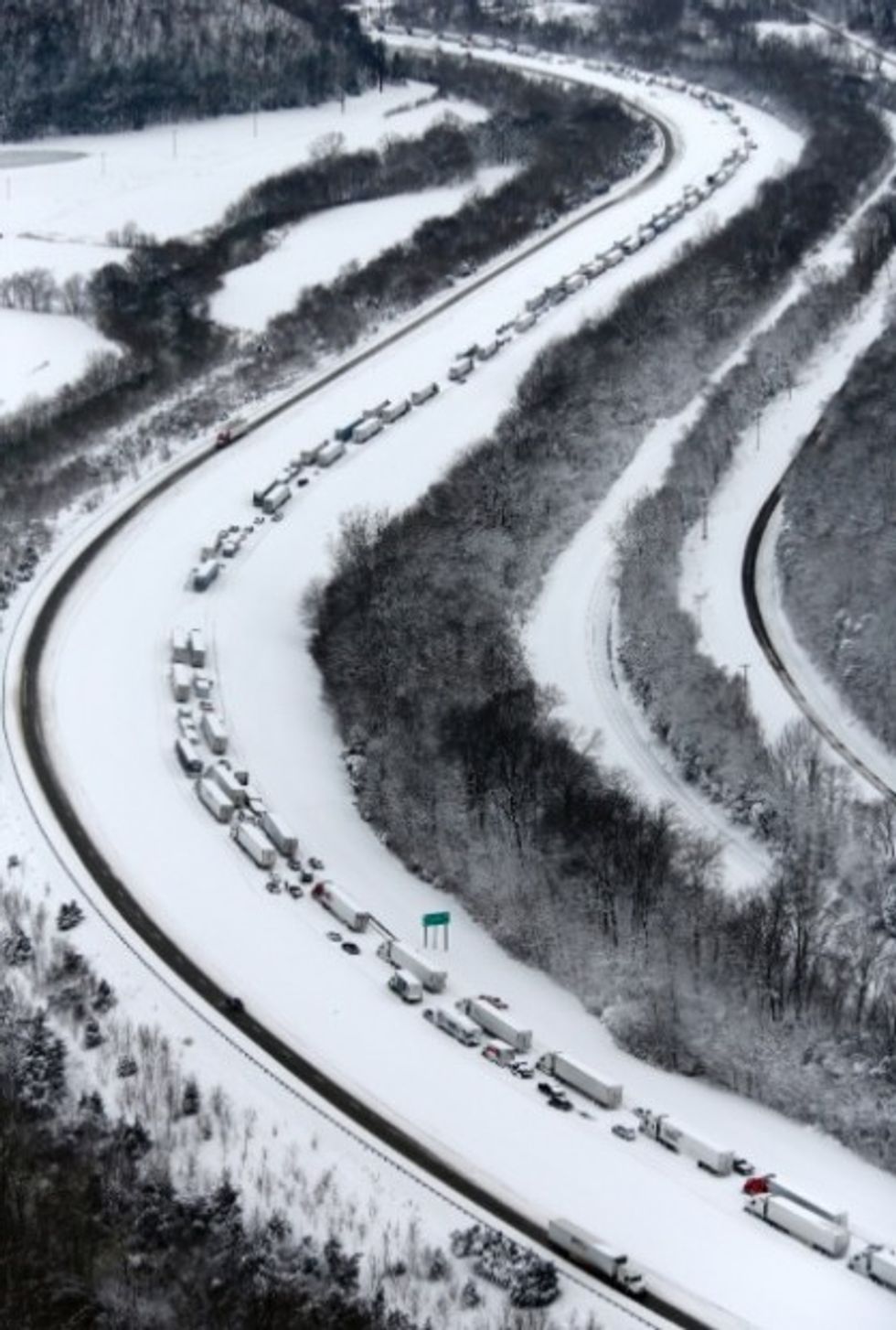 Cars and trucks are stranded Thursday, March 5, 2015, along Interstate 65 in Hardin and Bullitt counties in Kentucky due to a heavy accumulation of snow that fell overnight. (AP/The Courier-Journal, Pat McDonogh)
Larry Weas spent a cold night hunkered down in his car. To conserve fuel during his 11-hour ordeal, he kept his car turned off for long stretches of time and scooped snow into a bucket to have something to drink.
"This has been a lesson of survival," said the 54-year-old, who is diabetic.
By the evening, state highway officials said interstate routes in Kentucky were open again. Snow plows kept up their fast pace as dropping temperatures created the risk of icy highways.
On Friday, rising temperatures could lead to flooding, officials said. Gov. Steve Beshear said flash flooding could be a concern.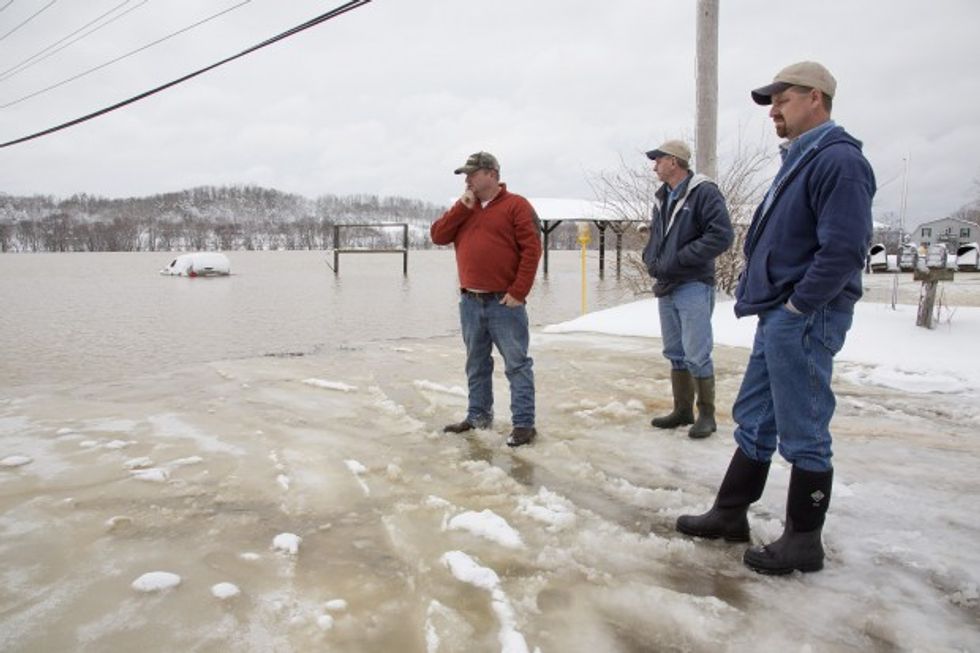 Steve Dean, left, Mark Crowe and Dwayne Jamison stand on Pompeii Road to see the flooding Red River as it approaches homes in Clay City, Ky., Thursday, March 5, 2015. Dean said his mother's home is close to the waters edge so he was trying to decide if or when to evacuate her. The Red River is expected to crest tonight at around 22 feet, which keeps most of the homes out of the flood zone. The governor's office has declared a state of emergency after Kentucky received as much as 17 inches of snow as a winter storm moved through the region on Wednesday night and into Thursday. (AP/David Stephenson)
Many other parts of the country saw debilitating snow as well. La Guardia airport was forced to close its runways for a time Thursday after a Delta Airlines plane skidded off the tarmac upon landing.
Virginia State Police were kept busy as well, fielding 1,155 calls for service statewide over four hours. From noon to 4 p.m. Thursday, troopers responded to 491 traffic crashes and 222 disabled vehicles. The majority of the crashes involved damaged vehicles only.
A weather emergency in Philadelphia was lifted Friday, but the city's public and Catholic schools remained closed after a winter storm dumped about eight inches of snow in the area.
The Southeastern Pennsylvania Transportation Authority was also still suspending service on a handful of bus routes because roads weren't considered safe in some areas Friday.
The storm dumped up to a foot of snow in other parts of southeastern and south central Pennsylvania, and less in the western half of the state, except for mountain ridges.
—
The Associated Press contributed to this report.