Hillary Clinton is blameless when it comes to her email?
Try saying that to "Fox News Sunday" host Chris Wallace and you'll quickly get slapped down.
Wallace, the journalist who was holding Scott Walker's feet to the fire a week ago, interrogated Clinton family confidant Lanny Davis Sunday morning as Davis tried to claim that Clinton hadn't done anything wrong when she used her personal email to conduct State Department business.
Wallace was quick to go through the multitude of government rules Clinton may have broken.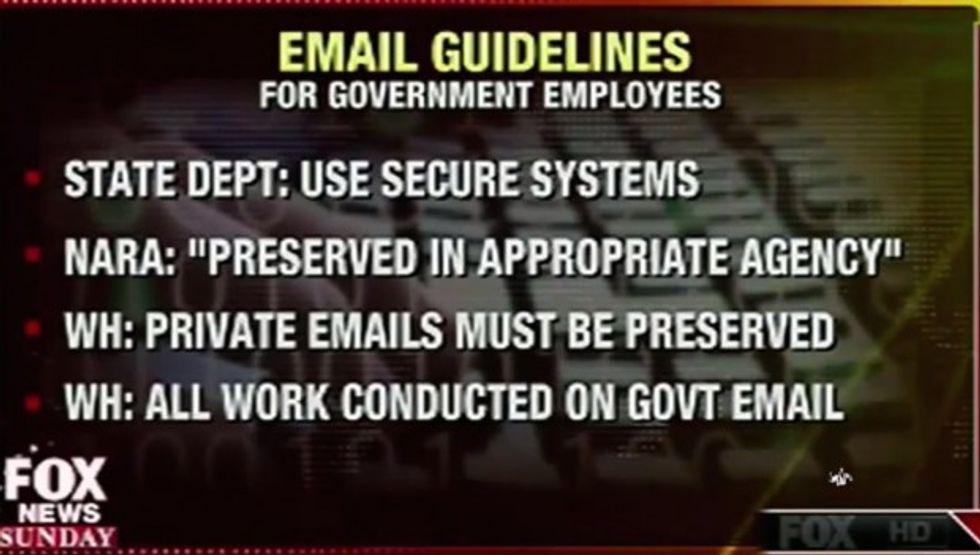 Image via Fox News
"You, Chris Wallace, might have a subjective view of what might have happened — I hear the word 'may' — I'm talking about what is the case," Davis said. "The fact is, nobody says [the way Clinton used email is] illegal. She's turned over all of her emails — the first secretary of state to do that."
As Davis tried to praise Clinton for the "unprecedented move" of volunteering her emails be made public, Wallace called him out.
"She didn't volunteer!" Wallace said. "She had to negotiate for four months with the State Department lawyers before she turned them over."
Davis tried to compare Clinton's email habits to Colin Powell's, but Wallace noted that rules changed between Powell's and Clinton's tenures as secretary of state.
Davis claimed that Clinton could have had "good reason" to use her personal email even after directing her State Department staff to only use their government-issued emails, a fact that Wallace noted incredulously was a defense based upon "convenience?"
When Davis tried to compare Clinton's emailing to Jeb Bush's, Wallace lost it.
"I've heard you play this game before," Wallace interrupted. "It's like the Republicans during Watergate saying, 'Well, Lyndon Johnson wiretapped people, too.' It's completely irrelevant. Let's not play that game."
Finally, Wallace asked Davis, "Do you ever get tired of cleaning up after the Clintons?"
Davis mustered a chuckle and claimed he didn't see it as cleaning up.
So Wallace started listing Clinton scandal after Clinton scandal, causing Davis to fire back:
Bill Clinton left with a 65 percent approval rating. Hillary Clinton today is the most popular politician in the country. And you're discussing a non-scandal…It's all politics.
Watch the whole explosive interview below:
This story has been updated.
—
Follow Zach Noble (@thezachnoble) on Twitter