A Navy chaplain is under threat of potentially losing his career following a round of complaints from sailors over the faith-based counseling that he reportedly provided, with officers claiming that he spoke out against homosexuality and sex outside of marriage during private sessions.
Lt. Cmdr. Wes Modder, a decorated military chaplain who was once assigned to serve elite Navy SEALs, is under fire after "a few sailors complained that they disagreed with the biblical views [he] expressed during counseling sessions," according to his attorneys at the Liberty Institute, a conservative legal firm.
Modder, who has been serving at the Navy Nuclear Power Training Command in Goose Creek, South Carolina, since April 2014, is accused of speaking out against homosexuality, telling a woman that she was "shaming herself in the eyes of God" for having premarital sex and purportedly berating a pregnant student who was not married, among other claims.
Michael Berry, senior counsel and director of military affairs for Liberty Institute, told TheBlaze on Wednesday, though, that many of the accusations made by the handful of sailors are not accurate or complete.
But, since the counseling sessions between Modder and the sailors were confidential, it's really a game of he said, she said at this juncture.
"We specifically and categorically deny any accusation that he engaged in inappropriate language and conduct," Berry said, claiming that the accusations are misrepresenting what was said during those private exchanges. "I went through word-for-word every allegation in the investigation and we discussed every incident in detail."
The attorney added, "The complainants have taken what happened and ... they have cherry picked and freeze-framed from those conversations."
As a result of sailors' claims against him, Modder received a "detachment for cause" letter from the Navy on February 17, concluding that the chaplain, as a result of the claims, was not able to "function in the diverse and pluralistic environment" at the training command, the Military Times reported earlier this week.
He has temporarily been reassigned while an investigation into the detachment clause is explored. If he is terminated before his 20-year work anniversary, which is just months away, he could lose retirement benefits — something that Berry and the Liberty Institute are actively fighting.
Berry told TheBlaze that Modder has always been honest with sailors when they come in for counseling, telling them during their first sessions what they should expect from him as a Christian who heralds the Bible.
"A sailor would come in for the counseling session … the chaplain would explain, 'Okay, I'm Chaplain Modder and as a chaplain I need you to know that I'm a trained minister,'" Berry said, noting that Modder would make sure that participants were comfortable knowing his perspective before confidentially speaking with him.
Berry also said that Modder would ask permission before showing those he counseled specific Bible verses to address issues they might be facing, adding that counseling sessions with military chaplains are quite common.
"We have a lot of traumatic stress going on, so people seeking out the chaplain is very commonplace in my own experience," said Berry, noting that chaplains help soldiers tackle their "spiritual care." "I served in the Marines. I did a combat deployment to Afghanistan … I learned a lot about the value [chaplains] bring."
The lawyer said that the case is particularly troubling, because Modder is protected by laws that shield his religious conscience, specifically when he is doing his job as a chaplain. While this wouldn't cover, say, chaplains hypothetically walking around holding a placard that says, "You're all sinners!" Berry said that the laws would shield a chaplain engaged in private counseling with sailors.
"When a chaplain is engaged in the core of what a chaplain does — basically he's a pastor … and when he is pastoring and shepherding his flock, when he is engaged in that core ministry activity, his religious speech is absolutely protected," Berry added.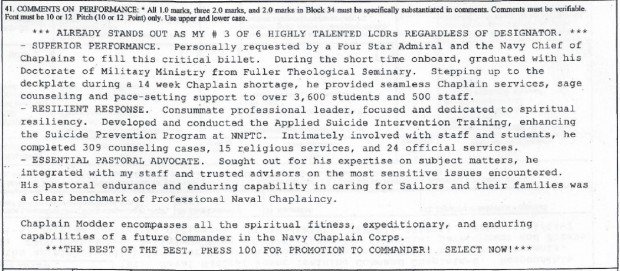 A review that showers praise upon Chaplain Modder, issued just weeks before he learned of complaints against him (Liberty Institute)
As for the complaints that were waged by those who disagreed with the chaplains, Berry said his response would be to ask these individuals what they expected to hear from a Christian minister.
"Sometimes you're going to say something to somebody that is truth and the person doesn't like what they hear," he said, noting that Modder was required to answer as a Christian would.
Berry also said that he found it curious that Modder, who has been working for nearly two decades in the chaplaincy, was praised in a professional review signed on Oct. 31, 2014, as the "best of the best" and a "consummate professional leader " who greatly exceeded standards in the vast majority of categories — but just weeks later, he found himself in the cross-hairs.
"The very first time chaplain Modder learned of these complaints was on December 6," Berry said. "On October 31, he had just received his latest evaluation … on December 6, two equal opportunity officers showed up at his office with complaints in hand."
In a February 17 letter seeking detachment of cause, it was written that Modder displayed "substandard performance involving significant events resulting from complete disregard of duty" — quite a contrast to the aforementioned review last October.
"[Modder] failed to show tolerance and respect for the rights of individuals to determine their own religious convictions as required by reference (b)," read a letter from Navy Capt. Jon Fahs. "On multiple occasions he discriminated against students who were of different faiths and backgrounds."
Berry said that the situation is currently in the Navy's hands, as the Liberty Institute has asked the military to grant Modder a religious accommodation to engage in activity that corresponds with his faith, and for the current internal charges against him to be dropped.
Officials have until March 16 to respond.
Military instructions require that chaplains be able to function in a "pluralistic" environment, though there is no proof either way that this provision was violated.