Senate Republicans on Tuesday morning will dare Democrats to vote against a bill to help victims of human trafficking, something Democrats seem likely to do because of their opposition to anti-abortion language on the bill.
The bill is the Justice for Victims of Trafficking Act, and the two parties fought all last week about abortion-related language in the bill. Democrats don't like the language saying a victims compensation fund can't be used for abortion, but Republicans say the language was in the bill from the start, and mirrors other limits on abortion spending with the use of public funds.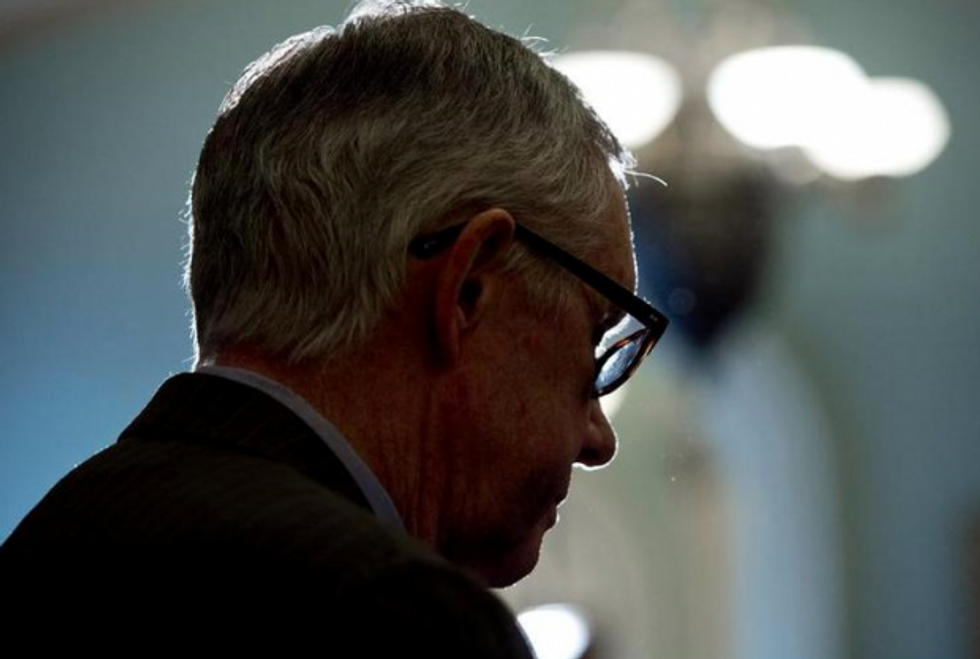 Senate Minority Leader Harry Reid (D-Nev.) says Democrats won't support a human trafficking bill that has anti-abortion language in it. Image: Tom Williams/CQ-Roll Call,Inc.
Over the weekend, Senate Majority Leader Mitch McConnell (R-Ky.) said he could delay a vote on Attorney General nominee Loretta Lynch because of Democrats' threat to deny the GOP with the six votes needed to advance the bill.
And on Monday afternoon, Senate Majority Whip John Cornyn (R-Texas) said a vote would take place Tuesday morning to advance the bill. Cornyn said six Democrats will be needed to move the bill ahead, since 60 votes are required and there are 54 Senate Republicans.
"We need six Democrats willing to break away from the mindless, heartless filibuster of this legislation," he said.
If the votes aren't there, it's unclear if McConnell will push to try again later in the week, or scrap the effort altogether and move to the Lynch vote.
Some Democrats have said Republicans tried to sneak in the abortion language, and have demanded that it be removed. Senate Minority Leader Harry Reid (D-Nev.) rejected the language as an unnecessary part of the bill, and said McConnell went back on his word by trying Lynch's nomination vote to Democratic acceptance of the abortion language.
"Any attempt to hold the confirmation vote hostage because of this abortion provision is a sham," Reid said.
But Cornyn said Democratic arguments ring hollow, since they are rejecting the normal process of trying to amend the bill. Republicans have offered to allow amendment votes, but Democrats, knowing they would lose those votes, have refused to let the process unfold at all.
"So it is getting harder and harder to believe the sincerity of their protests, and it's appearing more and more likely that really what they want to do is have the United States Senate return to its dysfunctional nature under the last four years under the previous majority," Cornyn said.