Which job sets your state apart from all the rest?
The Pew Charitable Trusts revealed its findings of the "most unique job" in each state, based on data gathered from the U.S. Bureau of Labor Statistics. To determine the most unique occupation in each state, Pew analyzed the concentration of individual professions in each state and compared them to the national average.
The Washington Post created this map based on those findings: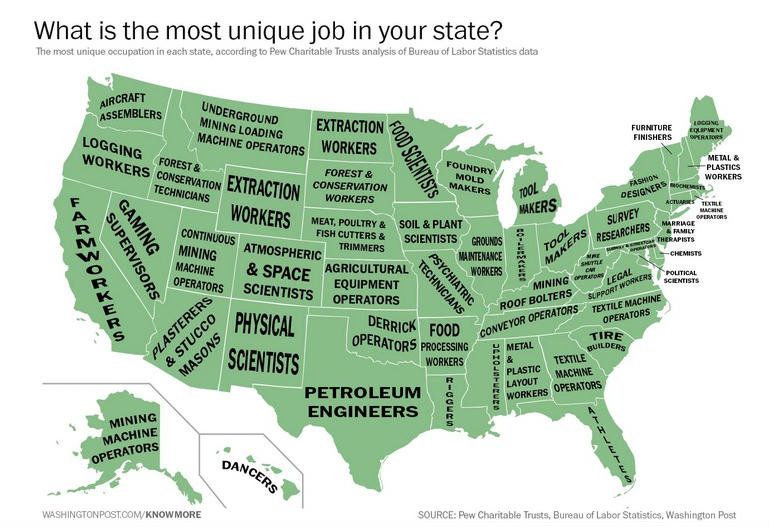 Image source: Washington Post
In the South, Midwest and Mountain West, the most unique occupations are related to the oil, mining, textile and farming industries: In Texas, the most unique occupation is a petroleum engineer, while in Georgia, there are an unusual number of textile machine operators. The most unique job in Utah is a continuous mining machine operator.
In the Northeast, those industries were demonstrably fewer. The most unique job in New York is a fashion designer. Massachusetts has an unusual number of biochemists, while Delaware's most unique job is a chemist. Actuaries are the most unique in Connecticut and in Pennsylvania, it's survey researchers.
Perhaps not of any particular surprise was in Washington, D.C. (measured along with any other actual state in this model), where in the nation's capital, the most unique profession is political scientist.
But not every state's most unique job has to do with industry production, farming or politics. There are an unusually high number of Floridians who are athletes, for example, while the most unique occupation in the Aloha State is a dancer.
(H/T: Washington Post)
–
Follow Jon Street (@JonStreet) on Twitter