Yale University paleontologists discovered the fossil of a giant, prehistoric sea creature that they say gives them clues to the early evolution of modern day arthropods.
Reaching at least seven feet long and dating back to 480 million years ago, according to a Yale University News release, Aegirocassis benmoulae was one of the largest of creatures with a hard exoskeleton on Earth.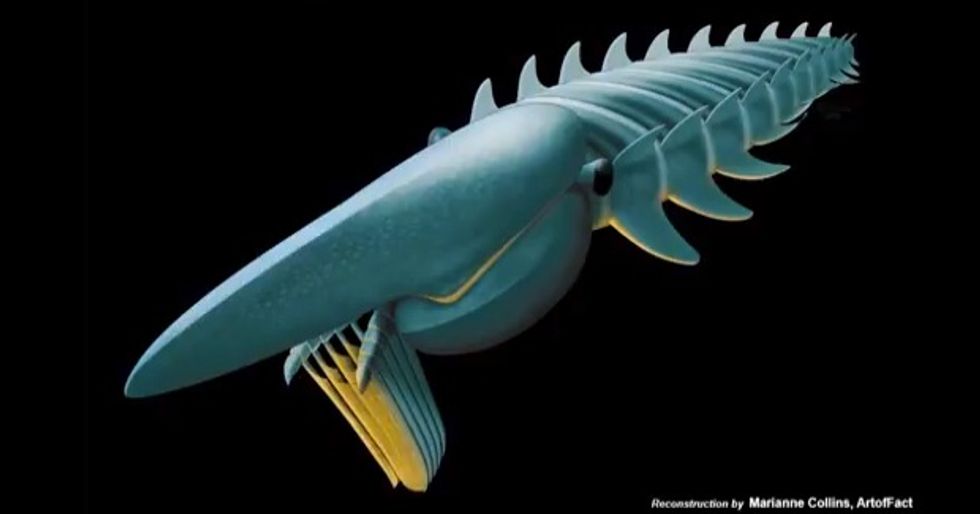 A reconstruction of what Aegirocassis benmoulae might have looked like when alive millions of years ago. (Image source: YouTube)
"Aegirocassis is a truly remarkable looking creature," paleontologist Derek Briggs said in a statement. "We were excited to discover that it shows features that have not been observed in older Cambrian anomalocaridids — not one but two sets of swimming flaps along the trunk, representing a stage in the evolution of the two-branched limb, characteristic of modern arthropods such as shrimps."
It was while the fossil discovered in Morocco was being cleaned that the scientists discovered these traits.
"It's fair to say I was in shock at the discovery, and its implications," Peter Van Roy, an associate research scientist at Yale, said in a statement. "It once and for all resolves the debate on where anomalocaridids belong in the arthropod tree, and clears up one of the most problematic aspects of their anatomy."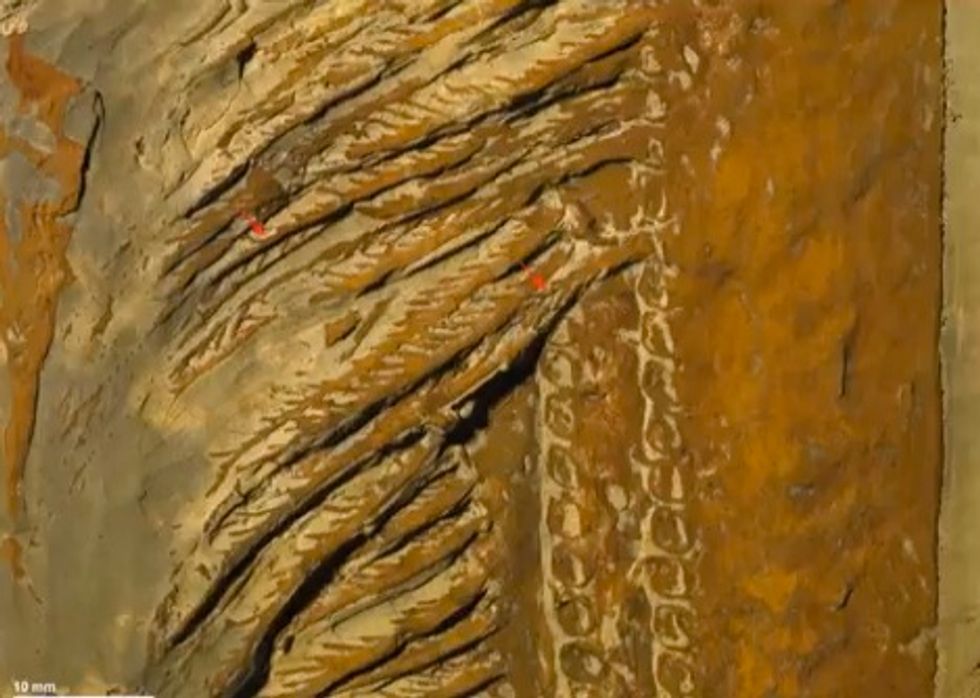 Frontal appendages of the Aegirocassis benmoulae fossil. (Image source: YouTube)
More specifically, the fossil showed that anomalocaridids, a group of early marine animals, had two separate sets of flaps per segment. The upper flaps, the news release stated, are like the upper limbs of modern arthropods and the lower flaps are the walking limbs.
The researchers also noted how this creature was a filter feeder, rather than an animal that grabbed its prey.
"Giant filter-feeding sharks and whales arose at the time of a major plankton radiation, and Aegirocassisrepresents a much, much older example of this — apparently overarching — trend," Van Roy said.
Watch the university's presentation about the new prehistoric creature:
(H/T: Huffington Post)