MADRID (TheBlaze/AP) — Experts searching for the remains of Miguel de Cervantes found a casket bearing the initials "M.C." with bones inside it in a crypt underneath a cloistered convent in Madrid.
Archeologists say they made the find over the weekend during excavations to solve the centuries-old mystery of where the Spanish writer was laid to rest.
Cervantes is a towering figure in Spanish culture. His novel "The Adventures of the Ingenious Nobleman Don Quixote of La Mancha" changed Spanish literature.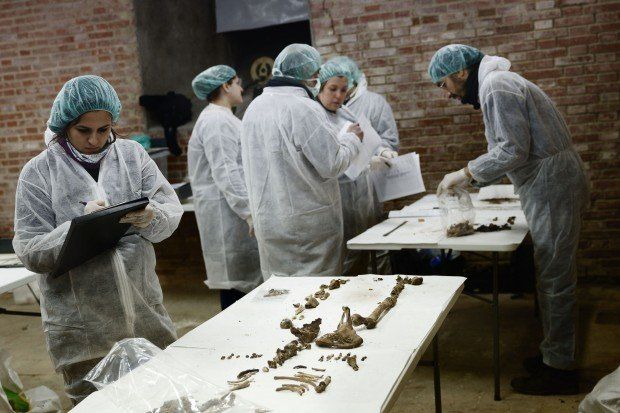 In this Jan. 24, 2015 file photo, a team of archaeologists and anthropologists take notes after starting the excavation work after identifying three unrecorded and unidentified graves in the chapel's crypt of the closed order Convent of the Barefoot Trinitarians in Madrid's historic Barrio de las Letras, or Literary Quarter, Spain. (AP Photo/Daniel Ochoa de Olza)
The initials on a plank of the coffin were formed with metal tacks.
"His end was that of a poor man," Pedro Corral, Madrid's head of art, sports and tourism, said, according to BBC. "A war veteran with his battle wounds."
Forensic scientists Almudena Garcia Rubio told BBC that the state of the remains will not allow them to individually identify the body as Cervantes, but he added, "we are sure what the historical sources say is the burial of Miguel de Cervantes and the other people buried with him is what we have found."
The experts said bones of at least nine other bodies were also found in the space containing the coffin. Cervantes' wife, Catalina Salazar, was buried at the convent, although the location of her grave also remains a mystery.
—
Front page image ÁWá via Creative Commons license.