Israelis headed to the polls Tuesday for an election race predicted to be very tight, with results nearly impossible to predict.
Prime Minister Benjamin Netanyahu said after casting his vote at his Jerusalem polling station that the third person he planned to call should he serve another term would be President Barack Obama, with whom he has had strained relations.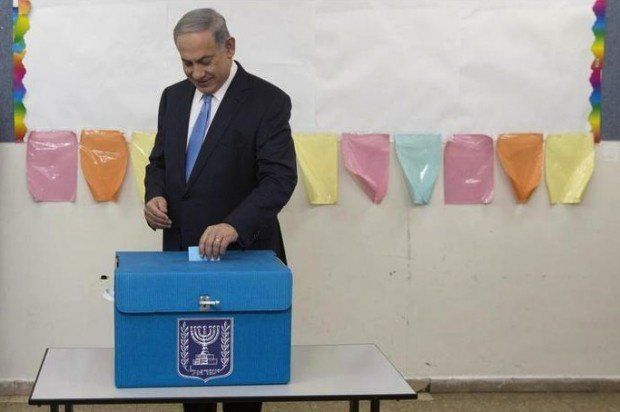 Israeli Prime Minister Benjamin Netanyahu casts his vote during Israel's parliamentary elections in Jerusalem, Tuesday, March 17, 2015. Israelis are voting in early parliament elections following a campaign focused on economic issues such as the high cost of living, rather than fears of a nuclear Iran or the Israeli-Arab conflict. (AP/Sebastian Scheiner, Pool)
He said his first two phone calls would go to an Israeli mother who lost two sons in battle and to the leader of the right-wing Jewish Home party to invite him to serve in his coalition government.
Zionist Union party leader Isaac Herzog, Netanyahu's chief rival, evoked a tone similar to Obama's past presidential campaigns, telling reporters at the Tel Aviv school where he voted, "These elections are between change and hope, to despair and disappointment."
Polls close at 4 p.m. EDT, but the final results may not be known for days or even weeks.
Under parliamentary election rules, Israelis cast their ballots for the Knesset, not directly for prime minister, and no party has ever won a majority of the 61 seats necessary to form a government alone.
The leader of the largest bloc of parties is tasked with forming a coalition government, a process that can take more than a month. Polls leading up to Tuesday's vote have been unable to predict how that will play out.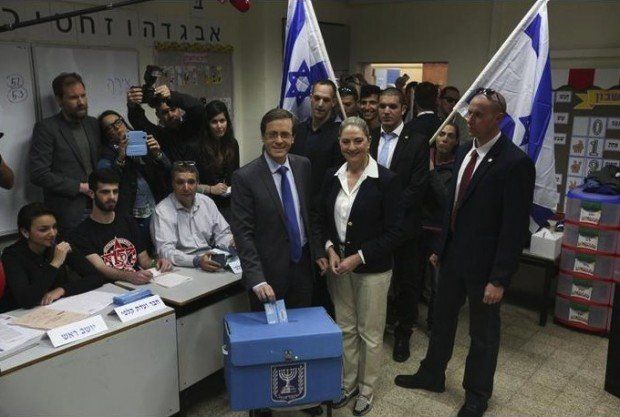 Zionist Union leader Isaac Herzog, accompanied by his wife Michal, casts his vote in Tel Aviv, Israel, Tuesday, March 17, 2015. (AP/Ariel Schalit)
The left-wing Zionist Union party – which is a union of the Labor party and Tzipi Livni's Hatnuah party – led Netanyahu's Likud party by about four parliamentary seats in all polls leading up to Tuesday; however, those polls also showed that the right-wing bloc of parties was predicted to obtain a larger number of the 120 Knesset seats than the left.
Confusing matters further, new election rules setting a higher threshold for a party to enter the Knesset mean some parties currently in the Knesset could disappear altogether. The four-seat minimum requirement has confounded pollsters, who have emphasized Tuesday night's exit polls may not accurately predict the winner.
The margin for small parties being elected to Knesset could be so small that they may have to wait until the paper ballot count is completed Thursday. Given the tight race between Netanyahu and Herzog, the loss of even one small coalition partner could be fateful.
Netanyahu has ruled out a "unity government" bringing Likud and the Zionist Union into the same coalition.
"There will be no unity government with the Labor [Zionist Union] party," Netanyahu said after he voted. "It's a party of contradictions."
At the final campaign rally before the vote, Netanyahu on Sunday called the elections "fateful" and said that he would give up no more land to the Palestinians nor will he divide the capital Jerusalem should he serve another term.
Netanyahu accused foreign governments of funding those trying to elect his rival and named the group V15, or Victory 15, which is being advised by former Obama campaign strategist Jeremy Bird. OneVoice, the group that has funded V15's anti-Netanyahu get out the vote efforts, has received State Department funding in the past.
Another surprise of the campaign has been the newly merged party representing Israel's Arab minority. The Joint List represents smaller factions which include Communists, Islamists and Palestinian nationalists, who came together due to the new rules requiring a higher number of votes to make it into the parliament.
According to polls leading up to Tuesday, the new party could emerge as the third- or fourth-largest party out of some 11 parties forecast to be elected. That could place the Joint List in position to decide the winning coalition, a first for Arab-Israelis, even if it does not formally join the government. Some of its members refuse to join or even endorse any Zionist party to lead the country.
Joint List spokesman Raja Za'atra last week compared the Islamic State group's atrocities to the 1948 establishment of the state of Israel and asserted that Hamas is not a terrorist group.