Parents in a suburb of Charlotte, North Carolina, are fed up with a neighbor long known for standing at his front door stark-naked. But under state law, the man is perfectly within his legal right to do so.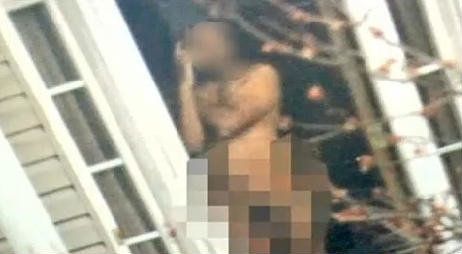 Image source: WBTV
According to WBTV, the man has been giving his neighbors an eyeful for the last 10 years, sometimes even multitasking and chatting on his cellphone at the same time. On Friday, fed-up neighbors decided enough was enough and called police – again.
Officers have been called to the neighborhood over the same complaint at least four times so far this year, but because it's not against the law, police only documented their responses as calls for service, as opposed to filing reports.
"Indecent exposure" laws governing North Carolina state that "any person who shall willfully expose the private parts of his or her person in any public place and in the presence of any other person or persons...shall be guilty of a Class 2 misdemeanor," but the law exempts any person from doing the same in a private place, such as their own home.
But the situation is also affecting others' daily lives, and it's gotten to the point where parents are hesitant to let their kids go outside to play for fear of what they'll see.
Neighborhood resident Adrienna Harris told WBTV she received calls at work from her daughter home on spring break last week, saying, 'Mom, I'm getting ready to go outside, but let me check if he's out there first.'"
Another frustrated neighbor, Pecolia Threatt, said she was taking out her trash can when she happened to look up.
"He was standing there buck-naked," Threatt said. "It's not good to have people walking around here naked like that, a grown man like that with all these kids out here, you know."
Frustrated neighbors have another option, separate and aside from the law. City officials said they can file a complaint with the homeowners association, which prohibits "nuisance activity." City Councilman Greg Phipps suggested that approach could work, especially now that residents have videos and photos as evidence of their previous claims.
"Because what's actually happening is this particular neighbor is making it difficult for people and adjoining neighbors to have the quiet enjoyment of their homes," Phipps said.
WBTV went to the man's home to try to get a comment but reported that he ran away, covering his face.
WBTV 3 News, Weather, Sports, and Traffic for Charlotte, NC
(H/T: WBTV)
–
Follow Jon Street (@JonStreet) on Twitter