Senate Democrats on Wednesday voted again to block a bill to help victims of human trafficking, a move that seems likely to further delay a Senate vote to confirm Attorney General nominee Loretta Lynch.
Democrats continue to oppose language in the trafficking bill that prevents money from being spent on abortion services for trafficking victims. Democrats have said that language must be removed before they can allow the bill to advance and ultimately be passed.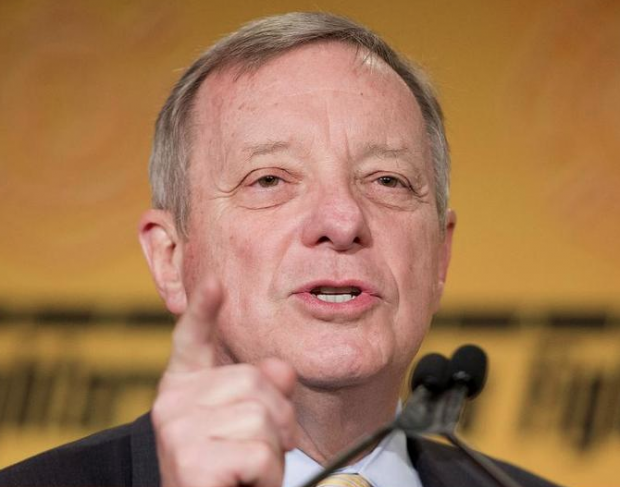 Senate Democrats, including Sen. Dick Durbin (D-ill.), again blocked a human trafficking bill to protest anti-abortion language in the bill. Image: AP Photo/Pablo Martinez Monsivais
But Republicans say the language is similar to other spending limitations that Democrats have broadly supported in past spending bills, and that Democrats should simply allow the legislation to move ahead. To create more incentive, Republicans have said they would continue to try to advance the trafficking bill before any vote is scheduled on Lynch's nomination.
Despite that incentive, most Democrats again voted against the trafficking bill. The GOP set a Wednesday afternoon vote to end debate on the bill, which needed 60 votes to pass.
But the bill failed 57-41. That's a slight improvement from the 55-43 vote seen on Tuesday, but still reflects that just four Democrats are voting with the GOP, while six are needed.
The vote left both sides with nothing else to do but blame each other for the impasse. After the vote, Democrats again took to the floor to argue that Republicans should strike the abortion language so the bill can pass and the Senate can move to consider the Lynch nomination.
But Senate Majority Whip John Cornyn (R-Texas) then blamed Democrats for failing to allow the Senate to do any work at all.
Earlier in the day, Sen. Dick Durbin (D-Ill.) injected racism into the fight by suggesting that Republicans are holding back Lynch because she's black. Durbin said the GOP has asked Lynch to "sit in the back of the bus."