Millions of boxes of Kraft Macaroni & Cheese are being recalled after the company revealed that some boxes could contain small pieces of metal.
Kraft Foods Group said in a news release issued Tuesday that it would be recalling 242,000 cases, which equates to about 6.5 million boxes, of the quick pasta meal that's especially popular with children. Boxes include the 7.25-ounce original flavor with "Best When Used By" dates in the range from Sept. 18, 2015 to Oct. 11, 2015.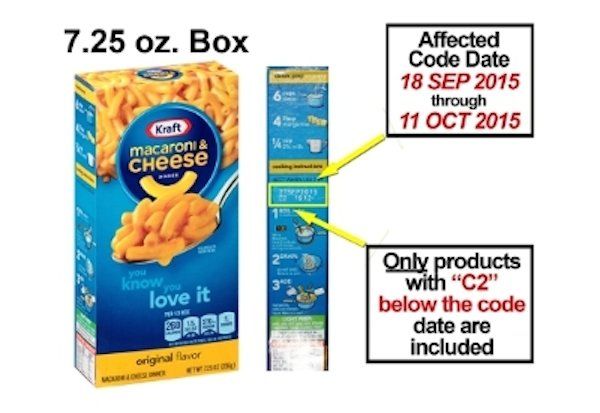 Image source: Kraft Foods Group
Some of the boxes were sold in shrink-wrapped multi-packs in the U.S., Puerto Rico and some Caribbean and South American countries, the news release stated.
"We deeply regret this situation and apologize to any consumers we have disappointed," Kraft said in a statement.
Kraft spokeswoman Joyce Hodel said, according to Reuters, that the company believes "a piece of stainless steel got wedged in a metal piece of equipment, which may have generated friction that resulted in small pieces of metal potentially falling into the product."
Kraft is encouraging customers who have a box matching its description for recall to return it to the store where it was purchased for a refund or exchange.
Watch this report about the recall:
For more details, visit Kraft's website.
—
Front page image via Shutterstock.