© 2023 Blaze Media LLC. All rights reserved.
The Fiery Thing a Canadian Politician Said About Muslim Women Who Refuse to Show Their Faces That Has Him Apologizing
"Rooted in a culture that is anti-women."
As the battle continues over the legality and appropriateness of women donning Islamic coverings during Canadian citizenship ceremonies, a conservative politician finds himself apologizing for stating that those unwilling to show their faces during these events should "stay the hell where [they] came from."
Larry Miller, a member of the Canadian House of Commons, uttered this proclamation during a radio interview on Monday, as he unleashed some tough commentary about Muslims who insist on wearing the niqab, a veil that almost completely covers the face.
"I'm so sick and tired of people wanting to come here because they know it's a good country and then they want to change things before they even really officially become a Canadian," he said during an appearance on CFOS Canadian radio. "Like, frankly, if you're not willing to show your face in a ceremony that you're joining the best country ... if you don't like that or don't want to do that, stay the hell where you came from."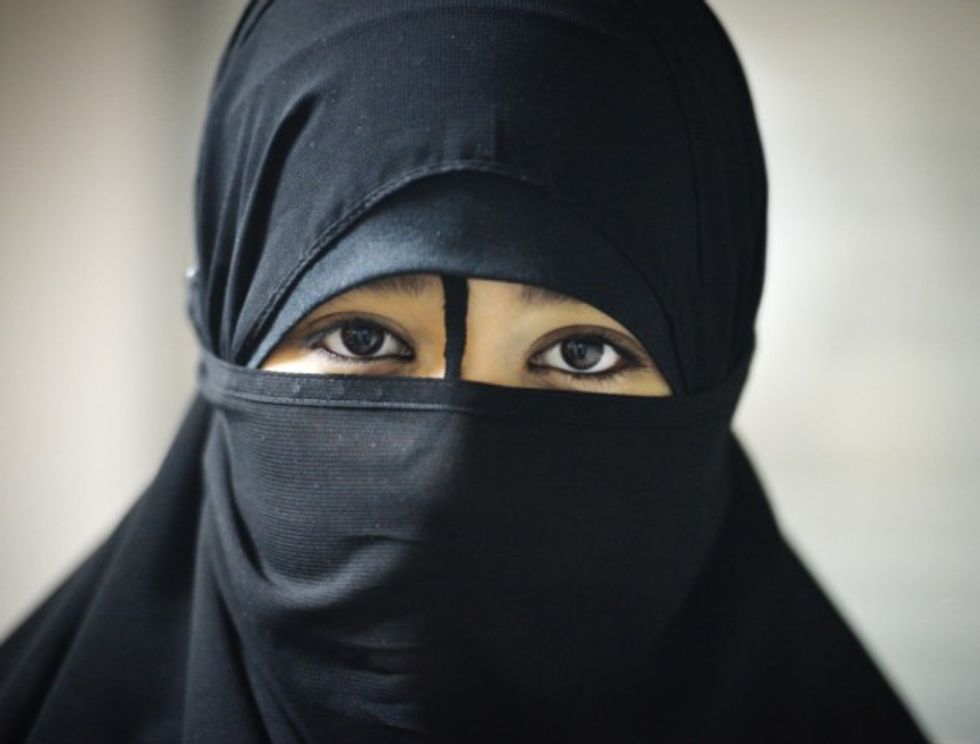 Photo credit: Shutterstock
Miller, who admitted that his comments might be a bit harsh, said that they represent how he feels.
In a statement released on Tuesday, he defended his views on face coverings, but apologized for comments that went beyond his mere stance on the contentious matter, according to the National Post.
Carl Vallee, a spokesperson for Prime Minister Stephen Harper, said that Miller "made inappropriate comments that went beyond our clear position, and he has apologized for that," according to Reuters.
The controversy comes just days after Harper ignited a firestorm of his own last Wednesday when he claimed that the niqab is "rooted in a culture that is anti-women."
Harper, who made this comment while speaking in front of the House of Commons, took aim at Liberal Leader Justin Trudeau, who, during the public exchange on the floor, disagreed with this sentiment as well as the government's attempts to ban women from wearing the niqab during citizenship ceremonies.
The prime minister said that Trudeau doesn't seem to understand why "almost all Canadians oppose the wearing of face coverings during citizenship ceremonies," according to CTV News.
"It's very easy to understand," Harper said of citizens' apparent opposition. "Why would Canadians, contrary to our own values, embrace a practice at that time that is not transparent, that is not open and, frankly, is rooted in a culture that is anti-women?"
Read more about that earlier controversy here.
Harper has been embroiled in a battle over the government's attempts to ban the niqab during citizenship ceremonies, which began back in 2012 when Muslim women were asked to remove face-coverings, including niqabs and burqas, while taking the oath.
The Federal Court of Canada ruled against the ban last month, but Harper's administration is appealing.
Want to leave a tip?
We answer to you. Help keep our content free of advertisers and big tech censorship by leaving a tip today.
more stories
Sign up for the Blaze newsletter
By signing up, you agree to our
Privacy Policy
and
Terms of Use
, and agree to receive content that may sometimes include advertisements. You may opt out at any time.