A local news station in California got about as close as it might have wished for to the end of a car chase turned foot pursuit through Los Angeles last night.
California Highway Patrol was chasing down two suspects driving in a stolen car Tuesday. When one of the suspects took off on foot, KABC-TV got an up close look when he ran right into its news van.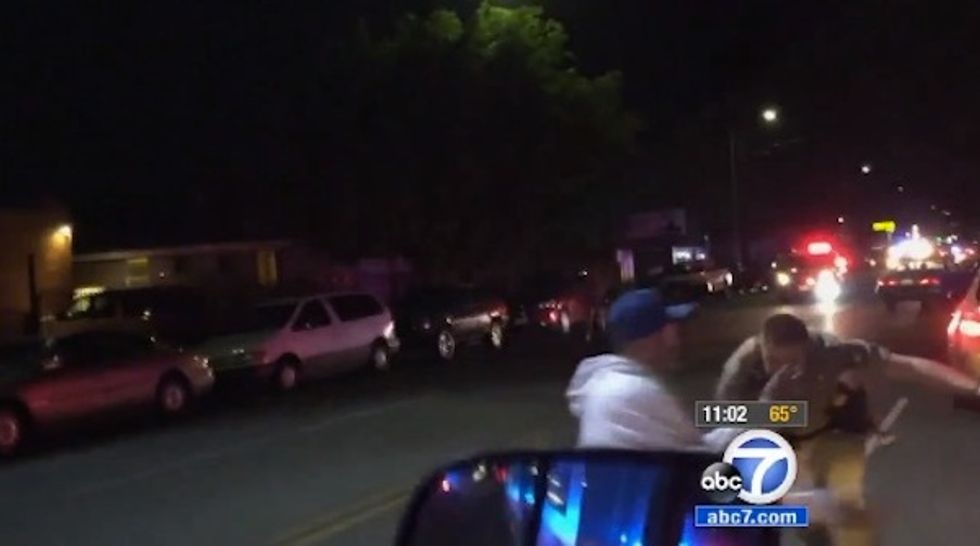 A CHP officer tried to catch the suspect in front of the van, but ended up missing him. (Image source: KABC-TV)
According to the news station, a female driver and male passenger continued the chase in the car at first, even despite popping their tires on a spike strip. Eventually, the car stopped and one of the suspects ran.
The male passenger wearing a white sweatshirt sprinted right past the KABC van, whose employees were inside filming the scene with their cellphones, and clipped the front bumper as he evaded an officer.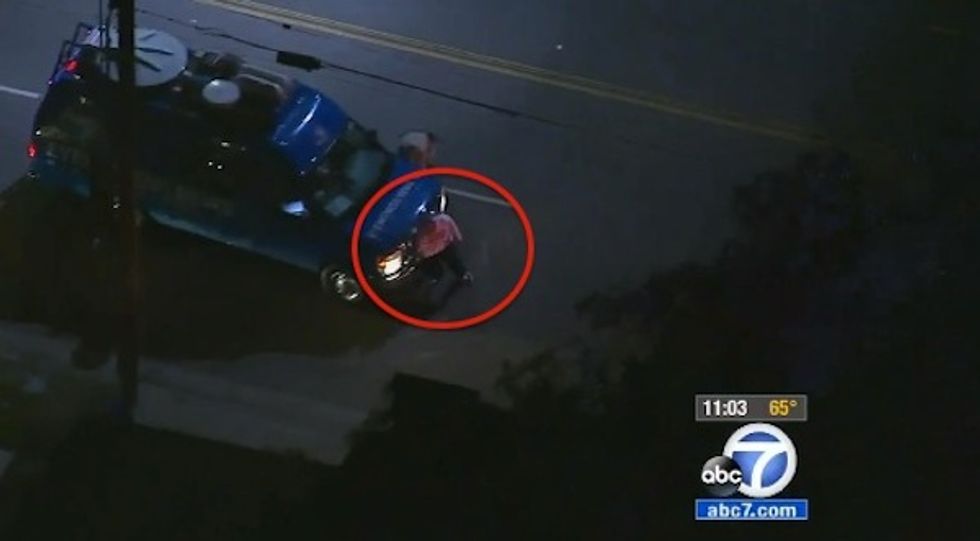 A news chopper caught the action from above. (Image source: KABC-TV)
Watch the footage in this report:
CHP officers hopped the fence as well and eventually caught up to and tackled the suspect.
"We came up Main Street and parked the car because we saw the chase was coming our way," Wes Tennyson, a KABC photographer, said in the report. "Shortly after we parked, the CHP officer came towards us and hit the suspect. Unfortunately, he missed, the suspect ran across and got over the fence."
CHP gave KABC's van a shout out on Twitter for its involvement.
. @ABC7Leanne @abc7 news van thanks for the assist! Vine: https://t.co/jwXIg9MsEG

— CHP Southern Div. (@CHPsouthern) March 18, 2015
Both the female driver, who remained in the car, and the male passenger, identified as 24-year-old Ramon Bernal by KCBS-TV, were arrested.
Sgt. J.P. Beay told KABC that CHP is investigating reports of objects being thrown from the car during the chase.
"We're not clear if she was throwing things out or if parts of the tire were falling off because the tire was flat, it was running on rims. So we don't know if those were tires or if it was some type of contraband," Beay said.