Fashion designer Domenico Dolce, who is openly gay, defended his stance in support of the traditional family during an interview with CNN on Wednesday, claiming that his stated opinion on the matter is his own "private point of few."
"It's my private point of view. I'm Sicilian," Dolce said, referencing controversial comments he made in an interview with Panorama Magazine. "I grew up in the family. My company's a family company. And I believe in the traditional family."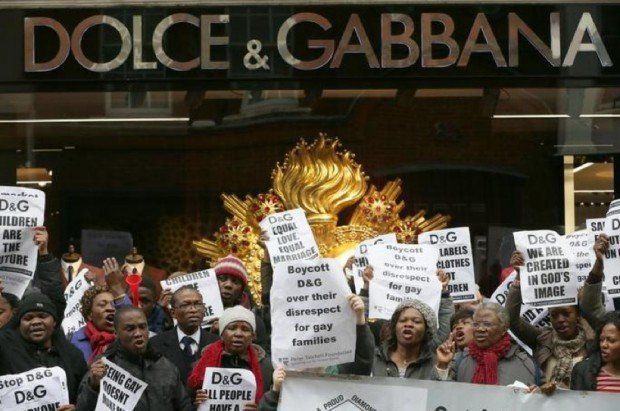 Protesters hold placards during a demonstration outside the Dolce & Gabbana store, London, Thursday March 19, 2015. Domenico Dolce and Stefano Gabbana denigrated surrogacy and same-sex parents in an interview with an Italian magazine last week, prompting Elton John to call for a boycott of the brand. (AP Photo/Tim Ireland)
With that in mind, he added, though, that he respects all cultures, issuing his comments after fellow fashion designer and business partner Gabbana proclaimed, "We love gay couples. We love gay adoption. We love everything."
It appears that there is at least one area in which the two men — who were also in a romantic relationship with one another until 2005 — have a disagreement. Gabbana admitted that he thinks "in a different way" from Dolce when it comes to IVF, as he doesn't oppose it.
When Dolce was asked where he stands on the pregnancy procedure, he didn't seem anxious to jump back into the debate.
"I think today we don't need to support or don't support," he responded. "You think what you think."
As for the controversy surrounding their fashion brand, Gabbana seemed stunned by backlash at the hands of celebrities like Elton John, questioning why the singer, among other well-known names, is calling for a boycott of Dolce & Gabbana.
"Boycott Dolce & Gabbana for what? They don't think like you? This is correct? This is not correct," he said. "We are in 2015. This is like medieval. It's not correct."
Gabbana previously called John "ignorant" and "fascist" following a very public spat over gay adoption and in vitro fertilization. It all unfolded after the fashion designers recently told Panorama magazine that they "oppose gay adoptions" and that "the only family is the traditional one."
"You are born to a mother and a father – or at least that's how it should be," Dolce said during that interview. "I call children of chemistry, synthetic children. Rented uterus, semen chosen from a catalog."
Watch them discuss the controversy:
The interview came the same day that pop star Madonna responded to the controversy on her Instagram account, writing that "all babies contain a soul however they come to this Earth and their families."
"There is nothing synthetic about a soul!! So how can we dismiss IVF and surrogacy? Every soul comes to us to teach us a lesson," she wrote. "God has his hand in everything even technology! We are arrogant to think Man does anything on his own. As above so below! Think before you speak."
Protests continue over the designers' remarks, with scores of picketers showing up outside of a London store on Thursday.
Listen to a discussion about this article, featured on TheBlaze Radio's "Pure Opelka." Faith Editor Billy Hallowell's interview begins at 15:00.
(H/T: CNN)