© 2023 Blaze Media LLC. All rights reserved.
Over or under?
Toilet paper and its placement on the holder that sends the roll either over or under can be a source of bathroom conflict among people, but a more than 100-year-old patent officially settles the debate.
The 1891 patent was originally dredged up this week by The Next Web writer Owen Williams, according to the Consumerist.
The patent by Seth Wheeler (via Google Patents) showed his improvements on wrapping and toilet paper rolls to include perforation.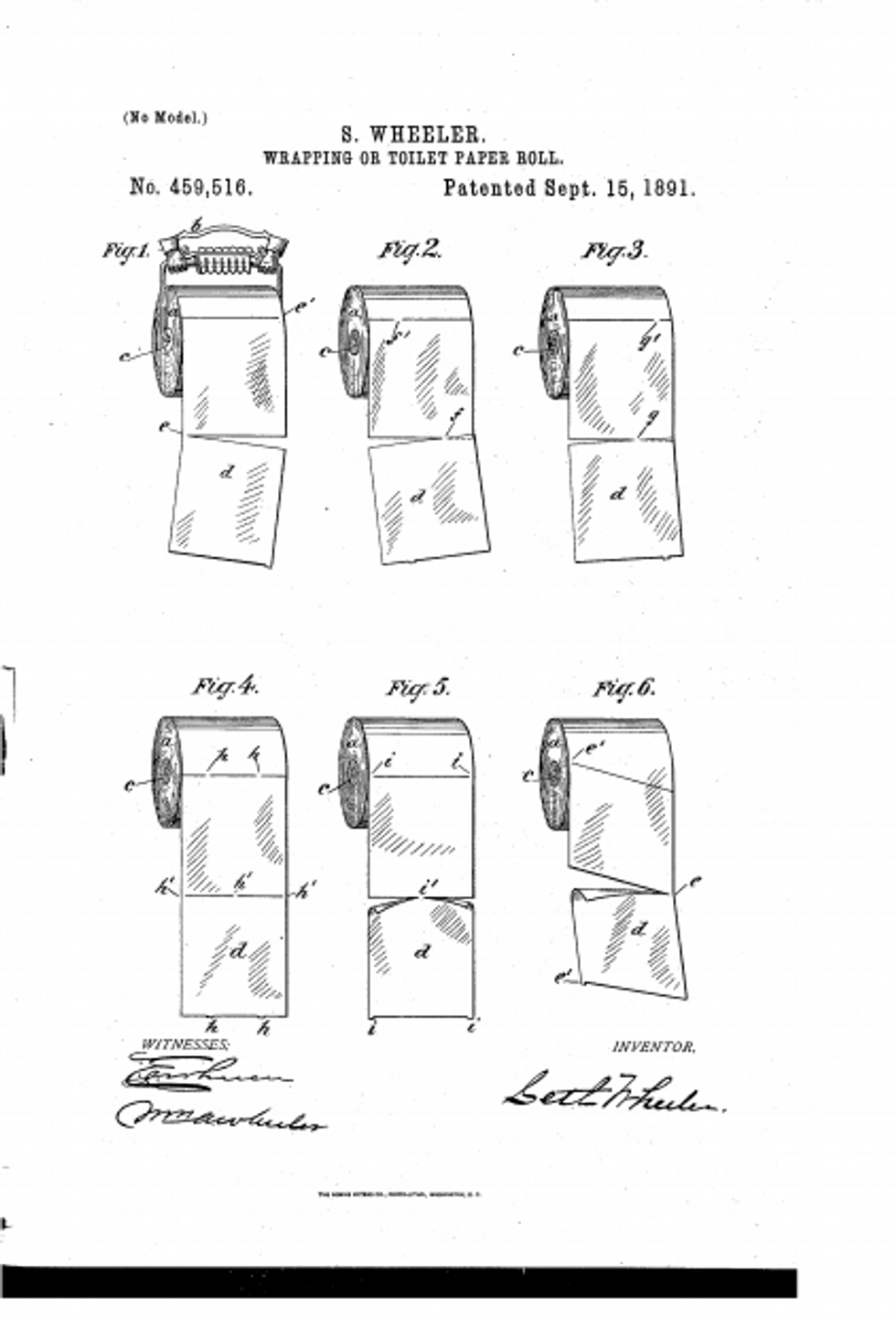 Image source: Google Patents
"My invention consists of a roll of paper for wrapping or toilet use so constructed that the points of attachment and severance between the sheets will be alternately out of parallel lines running through the whole body of the sheets, so that a pull upon the free end of the web will not be transmitted in a direct line through a series of sheets,but will be diverted by the spaces opposite the connecting points of the sheet pulled upon, thereby producing a transverse strain upon the next line of connecting points sufficient to break them," Wheeler wrote. "In carrying out my invention the sheets of paper are only partially separated, having their points of attachment arranged in a novel [manner], whereby each sheet will easily separate from the series as it is drawn from the roll, there being no litter occasioned, and any waste of paper is thereby prevented."
He added in the patent that his roll invention can be used on the "simplest of holders."
Consumerist pointed out that the patent was originally issued in 1871, but the roll design was added in 1891.
Though the debate might be settled, this doesn't mean toilet paper fights are over. You'll still have to change the lackadaisical ways of whoever is putting it on wrong in your household.
Take our poll and let us know how you put the toilet paper on the holder:
(H/T: WKMG-TV)
—
Front page image via Shutterstock.
Want to leave a tip?
We answer to you. Help keep our content free of advertisers and big tech censorship by leaving a tip today.
more stories
Sign up for the Blaze newsletter
By signing up, you agree to our
Privacy Policy
and
Terms of Use
, and agree to receive content that may sometimes include advertisements. You may opt out at any time.