Artists like Chris Carlson make trippy murals with their skillful mastery of perspective.
Though his chalk drawings are on a flat surface, they're so well done that they'd have you to believe they were 3-D.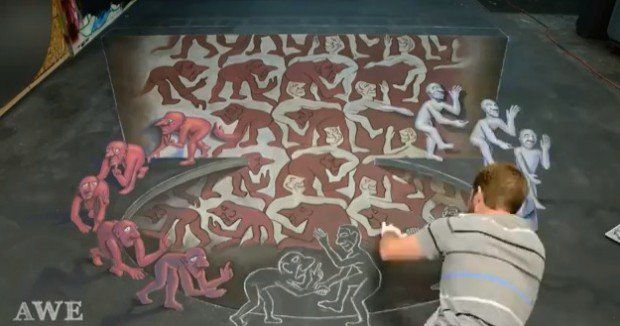 Chris Carlson at work on one of his chalk illusions. This one inspired by the work of fellow artist MC Escher. (Image source: YouTube)
A time-lapse of Carlson's work was recently featured on the YouTube channel AWE me as part of its artists series. Check it out:
Though this work by Carlson is AWE me's most recent post, here's another from his own YouTube channel a couple of years ago:
Carlson modeled this one off of a whack-a-mole game:
The Denver-based artist is also by no means the only one making such stunning illusions either.
Just look at this one created by Edgar Mueller a few years ago:
See more of Carlson's work on his website.
(H/T: io9)