House Speaker John Boehner (R-Ohio) is expected to visit Israel by the end of March, just a few weeks after Israeli Prime Minister Benjamin Netanyahu delivered a controversial speech to a joint session of Congress at Boehner's invitation.
According to press reports, Boehner's visit was planned before Netanyahu's successful election this week, and he's expected to be in the country to congratulate Netanyahu personally on March 31.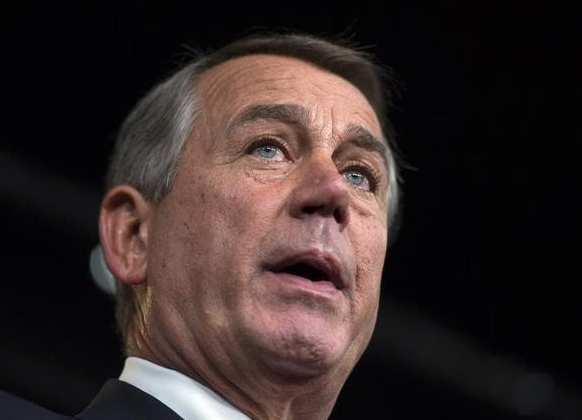 House Speaker John Boehner (R-Ohio) will visit Israeli Prime Minister Benjamin Netanyahu in Israel by the end of March. Image: AP Photo/Molly Riley
The bond between Boehner and Netanyahu seems to have grown in the last few years, which could be a factor of what most agree is a strained or even poor relationship between Netanyahu and President Barack Obama. Boehner's invitation to have Netanyahu speak earlier this month was met by criticism from the White House, which complained that no Democrats were warned, and that the speech would take place too close to the Israeli election.
Dozens of Democrats ended up skipping the speech, but Boehner and other Republicans were unapologetic about the invitation, and said it was a chance for Netanyahu to explain the growing danger of Iran in the Middle East.
That itself was seen as a further slight against Obama's ongoing effort to negotiate a nuclear agreement with Iran. Boehner's visit to Israel may end up being the latest chapter in this feud between Obama Republicans who vehemently disagree with Obama's approach to the Middle East.
On Wednesday, Boehner tweeted out his congratulations to Netanyahu for the Likud Party's election victory on Tuesday:
Heartfelt congratulations to PM @Netanyahu. Looking forward to continuing the strong bond between #Israel & America.

— Speaker John Boehner (@SpeakerBoehner) March 18, 2015
But it took Obama until Thursday to call Netanyahu and congratulate him. That late call was blasted Thursday night by Sen. Marco Rubio (R-Fla.), who said Obama is usually the first to call leaders upon their election, even in countries that aren't strong allies of the United States.
"[I]n March 2012, he was among the first to call and congratulate [Vladimir] Putin in Moscow," Rubio said. "[I]n June of 2012, he was among the first to call [Mohamed] Morsi and the Muslim Brotherhood when they won the Egyptian presidency."