It was a field trip that will probably stick with the fourth-graders from Lincoln Ackerman Elementary School for a while.
On Thursday, the kids visited the New Hampshire state House and got a taste of what life in the political world is really like. The class was going to learn what it takes to get a bill passed, their teacher helping them draft a bill to make the red tail hawk the official raptor of the state.
Teacher James Cutting and the students were present in the state House gallery where, before voting on the bill, two representatives spoke in favor of the proposed action and three spoke against the bill.
With the fourth-grade class watching, Republican Warren Groen of Rochester spoke against the bill — and raised some eyebrows when he detailed why this bird was an inappropriate symbol for the Granite State.
Groen graphically explained why the red tail hawk should not receive the proposed designation: "It grasps them with its talons then uses its razor-sharp beak to basically tear it apart limb by limb, and I guess the shame about making this a state bird is it would serve as a much better mascot for Planned Parenthood."
The vote was held shortly after that and the motion was not successful, losing 133-160.
Earlier this month, the students' two-page bill managed to squeak past the state Environment and Agriculture Committee on a 10-8 vote. The bill, #383, was put in the public record and placed on the official calendar to face a vote on the state house floor on Thursday.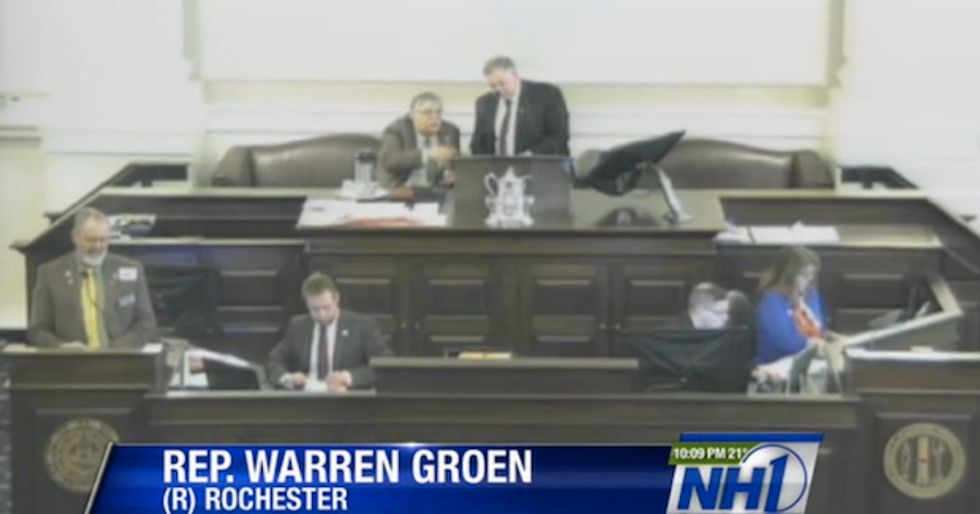 Image: NH1.com
After Groen's statement went public, he took some flack for both his blunt language and for equating the hawk's feeding habits to abortion.
In an telephone interview with a local news outlet, Groen focused his rejection of the bill on the fact that New Hampshire has 142 families of birds and that the state already has an official state bird. He added clarification about his statement about the bird being "a much better mascot for Planned Parenthood," telling the interviewer it was "aimed at adults."
Teacher Cutting's reaction to the failure of the bill and some of the negative comments can be heard here.
Watch the local news coverage of the event.
__
Follow Mike Opelka (@Stuntbrain) on Twitter.