Bill Maher said comparing Israeli Prime Minister Benjamin Netanyahu's controversial comments on Arab Israeli voters to a Republican hypothetically commenting on black American voters coming out to the polls "in droves" would work as an analogy only if the U.S. were surrounded by "12 or 13 completely black nations" who had launched military strikes on the U.S.
Netanyahu on election day Tuesday urged his supporters who hadn't yet voted to do so, because, he said, foreign government-funded left-wing organizations were busing voters in Arab neighborhoods to the polls. Israel's Arab minority votes overwhelmingly for left-wing parties.
Maher asked his guests on HBO's "Real Time" Friday, "When he said that, 'Arab voters are coming out in droves to the polls,' I heard a lot of commentators here say, 'it would be as if Mitt Romney in 2012 on the eve of the election said black voters are coming out in droves to the polls.' But I don't know if that's really a great analogy."
"I think that would be a good analogy if America was a country that was surrounded by 12 or 13 completely black nations who had militarily attacked us many times, including as recently as last year. Would we let them vote? I don't know. When we were attacked by the Japanese, we didn't just not let them vote, we rounded them up and put them in camps," Maher said.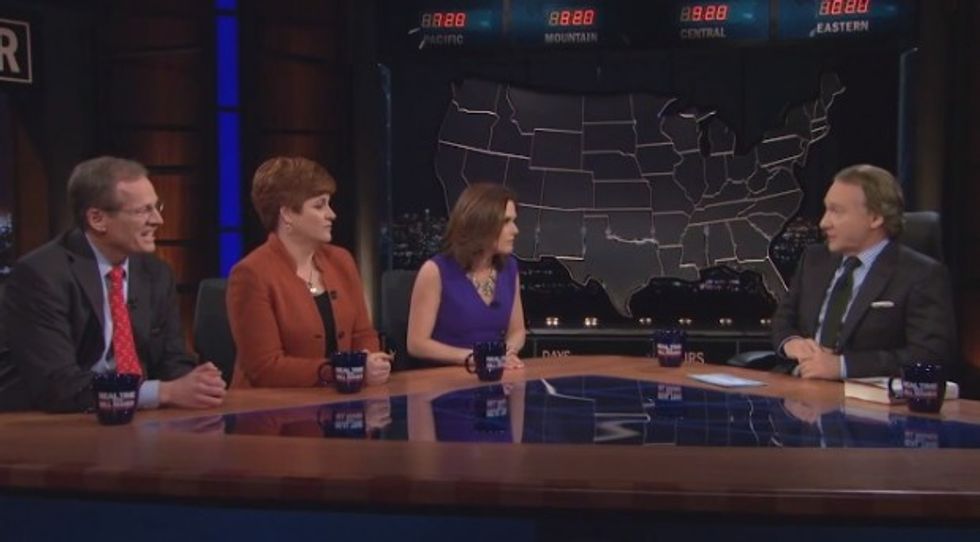 Bill Maher told his panel the Arab-Israeli voter comparison with black American voters didn't work for a simple reason. (Image source: HBO via YouTube)
Former Rep. Jack Kingston (R-Georgia) told Maher, "Netanyahu wasn't just motivated on his own reelection as much as he is on the survival of Israel."
"To one side he has the Gaza Strip, Palestinian Authority recognizing Hamas," Kingston said. "To the north he has Hezbollah. To Syria he now has ISIS. I think he's actually very, very concerned about the future of his country and the fact, that as you're saying, these countries that are all around him have promised to wipe Israel off the map."
GOP strategist Mercedes Schlapp said of Netanyahu's comment, "Of course it was politics! How do you win an election?"
"He's a politician, by the way, in a real democracy that lets Arabs vote," Maher responded. "So I'm just saying, a little perspective."
When he introduced the Israeli election topic, Maher asserted that Republican presidents had used the "race card" to get elected.
"Like Reagan didn't win races with racism? Or Nixon? Or Bush? Like they didn't play the race card? … Remember Willie Horton?" Maher asked.
Schlapp said Obama has been playing the race card since he was elected to which Maher said, "Hello, he's black."
After his Likud party won the largest number of seats in the Knesset, Netanyahu later last week clarified what he had meant when he commented on Arab busing.
"I warned of foreign money coming in to selectively try and bring out supporters of a list that includes Islamists and other factions that oppose the State of Israel," Netanyahu told Fox News. He was referring to the Joint List, a merger of Arab Israeli parties representing Islamists, Communists and Hamas sympathizers. The Joint List is now the third largest party in the Knesset following the Likud and the left-wing Zionist Union.
Watch the exchange from Real Time: