WASHINGTON (TheBlaze/AP) — President Barack Obama is paying tribute to modern Singapore's founding leader, calling him a "giant of history" as well as one of the great strategists of Asian affairs.
Lee Kuan Yew, Singapore's first and longest-serving prime minister, died at age 91. Obama met with him during a trip to Singapore in 2009 and credited the former prime minister Sunday with helping him reshape U.S. policy toward Asia.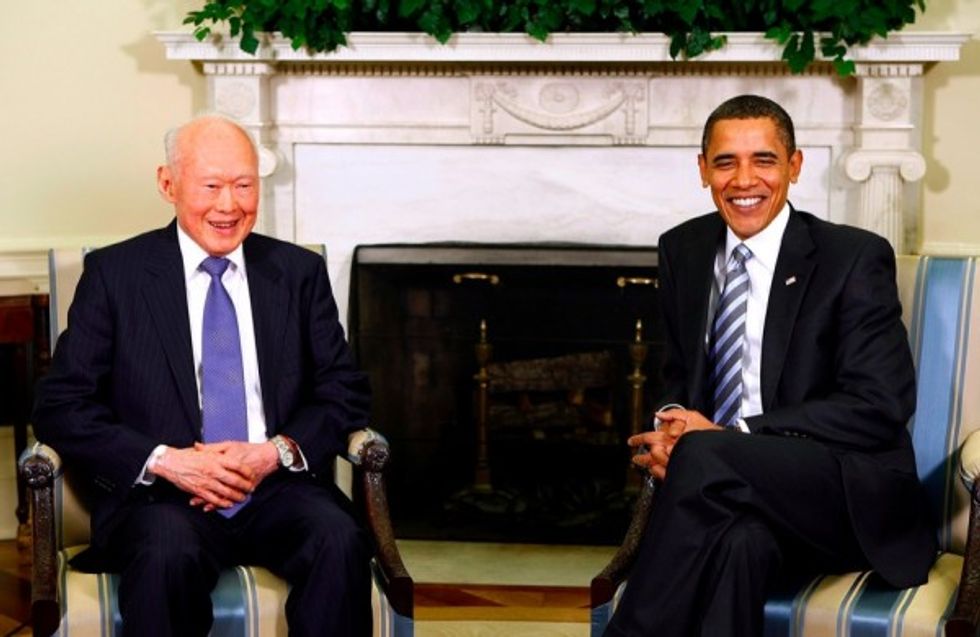 In this Oct. 29, 2009, file photo, Singapore's then-Minister Mentor Lee Kuan Yew, left, meets with U.S. President Barack Obama in the Oval Office of the White House in Washington. (Image source: AP/Gerald Herbert, File)
Obama described Lee as a visionary and a "remarkable leader' who led Singapore from its independence in 1965 to its days as one of the world's most prosperous nations.
Lee was both admired for Singapore's efficient government, economic growth and safe streets — and feared for having jailed political rivals for decades without trial and for cracking down on protests and the press.
"Lee Kuan Yew's tremendous role in Singapore's economic development is beyond doubt, but it also came at a significant cost for human rights," Phil Robertson of Human Rights Watch said, the Wall Street Journal noted. "Today's restricted freedom of expression, self-censorship and stunted multiparty democracy is also a part of his legacy that Singapore now needs to overcome."
—
Follow Dave Urbanski (@DaveVUrbanski) on Twitter