© 2023 Blaze Media LLC. All rights reserved.
Islamic State Hacking Division' Likely Used Google to Create U.S. Military 'Hit List': Analysis
"We don't have any evidence of a specific threats."
When the "ISIS hacking division" published the names and addresses of U.S. military members online Saturday, it claimed to have acquired them by hacking U.S. government databases. But as it turns out the terrorist sympathizers most likely just searched Google.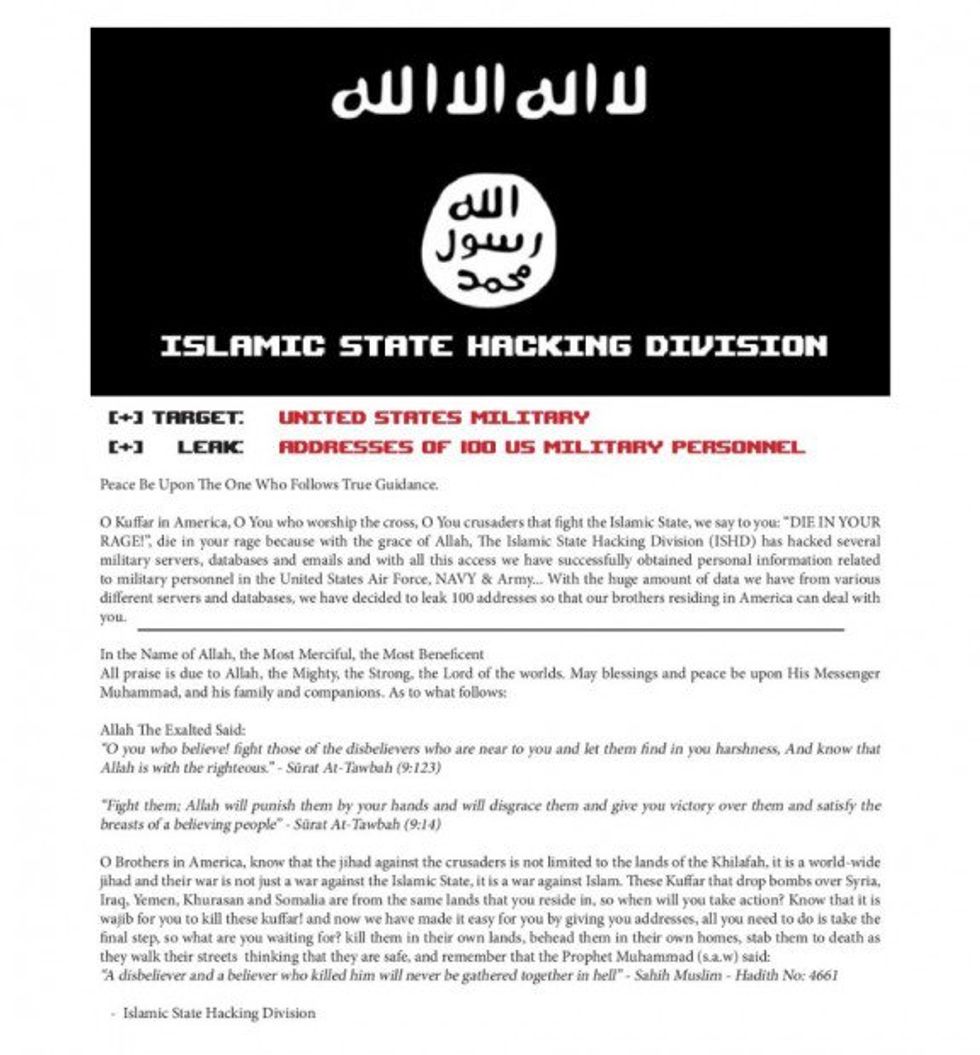 Image source: Screengrab
According to the Daily Beast, at least 2/3 of the names that appeared on the terrorist group's "hit list" had also been featured on the Department of Defense's website, thus accessible through online search engines, such as Google.
The names were published on the Defense Video & Imagery Distribution System, a website launched by the government not long after the September 11, 2001 terrorist attack to promote the work of U.S. soldiers. The site contains photo and video archives available to journalists and other subscribers. It also coordinates holiday greeting commercials seen by deployed troops' friends and family back home.
At least 60 of the 100 names were found on DVIDS but it isn't clear from where the remaining names on the list were gathered. But while most of the names were readily available online to anyone willing to spend enough time searching for them, the addresses of those soldiers were not available on military websites.
However, plenty of third-party websites, such as WhitePages.com for example, make information like this readily available at the click of a mouse. Further, a defense department official told the Daily Beast that some of the addressees on ISIS' "hit list" were incorrect, while adding that at least one of the names belonged to someone who isn't even in the military anymore.
Despite not knowing where the group had gotten all of the information it published, however, Pentagon spokesman Army Col. Steve Warren said that there is no evidence of any data breach.
"We don't have any evidence of a specific threats associated with this list," Warren told the Daily Beast.
In addition, the Pentagon said that as of Monday it had notified nearly all of the 100 servicemen and women whose information had been published.
(H/T: Daily Beast)
–
Follow Jon Street (@JonStreet) on Twitter
Want to leave a tip?
We answer to you. Help keep our content free of advertisers and big tech censorship by leaving a tip today.
more stories
Sign up for the Blaze newsletter
By signing up, you agree to our
Privacy Policy
and
Terms of Use
, and agree to receive content that may sometimes include advertisements. You may opt out at any time.