Texas Sen. Ted Cruz (R) announced at Liberty University on Monday that he will be running for president in 2016, but Glenn Beck said many of the subsequent news stories were about how students were "forced" to attend the speech.
"One of them comes from the Huffington Post where they said the only reason the students showed up today is because they were told they would be fined if they didn't show up. Can you explain this?" Beck asked TheBlaze's Amy Holmes, reporting from Liberty  University.
Holmes said the university did not single Cruz out in any way, but that convocation is always mandatory regardless of the speaker.
"I was told by one of the students that about 85 percent of the students at Liberty University were in attendance, or expected to be in attendance," Holmes said. "But as another student told me -- and I think this was a smart observation -- no one made them stand up and cheer and clap, and clap warmly for many of the lines that Ted Cruz delivered this morning."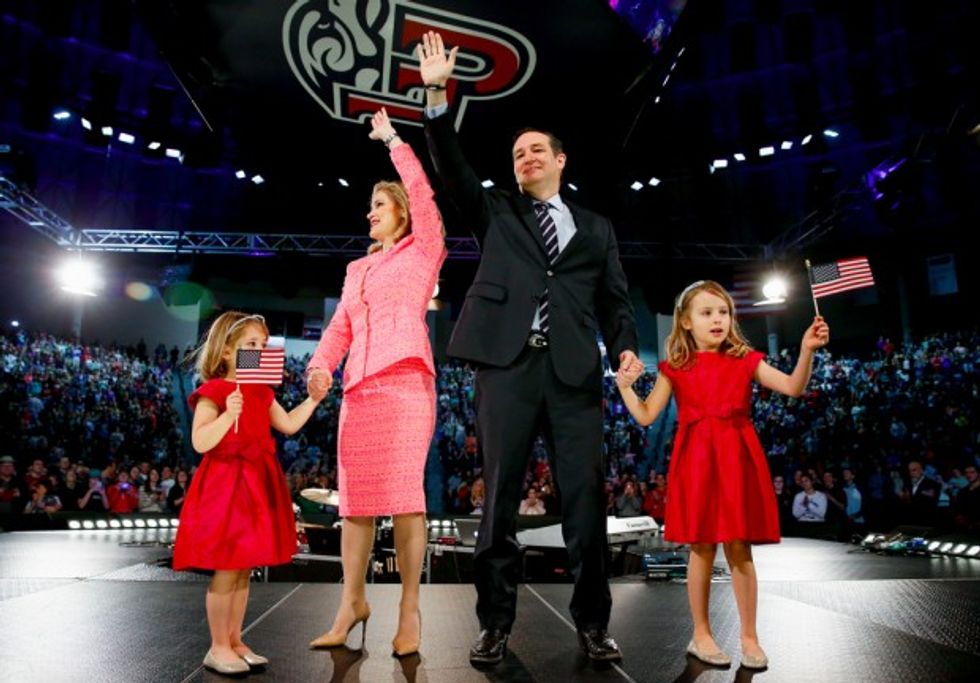 Sen. Ted Cruz, R-Texas, his wife Heidi, and their two daughters Catherine, 4, left, and Caroline, 6, right, wave on stage after he announced his campaign for president, Monday, March 23, 2015 at Liberty University, in Lynchburg, Va. Cruz, who announced his candidacy on twitter in the early morning hours, is the first major candidate to officially enter 2016 race for president. (AP Photo/Andrew Harnik)
Beck said convocation with various speakers is "part of the experience" at Liberty, and it doesn't diminish the warm turnout for Cruz.
"The feeling was one of excitement, of students who are obviously listening, they're there, they were clapping, they were reacting," Holmes agreed. "But they were also willing to discuss that they still have open minds about who they might support for president of the United States, whether it's a Republican or a Democrat."
Beck also spoke with Professor Robert George, Cruz's adviser at Princeton University, about Cruz's credentials and qualifications. George supervised and graded Cruz's senior thesis on the Ninth and Tenth Amendments, and described the final product as a "terrific piece of work."
"Ted was an outstanding student, one of the top students I've ever had really in 30 years of teaching at Princeton," George remarked.
Beck asked the professor about Calif. Governor Jerry Brown's claim that Cruz is "unfit" to be president of the United States, and George said it is simply "not a credible argument."
"That's obviously someone who's very afraid of Ted Cruz becoming president of the United States," George said. "And I think they're right to be afraid ... because he very well could become president of the United States."
[mlbvideo content_id=52721683]
The full episode of The Glenn Beck Program, along with many other live-streaming shows and thousands of hours of on-demand content, is available on just about any digital device. Click here to watch every Glenn Beck episode from the past 30 days for just $1!