Newly translated video from inside one of the Yemeni mosques targeted in Friday's suicide bombings purports to show worshipers shouting anti-American and anti-Jewish slogans the moment one of the bombs exploded.
"Death to America. Death to Israel. Curse upon the Jews. Victory to Islam. Allah akbar. Death to America. Death to Israel," those inside the mosque chanted, according to a Middle East Media Research Institute translation of the amateur video.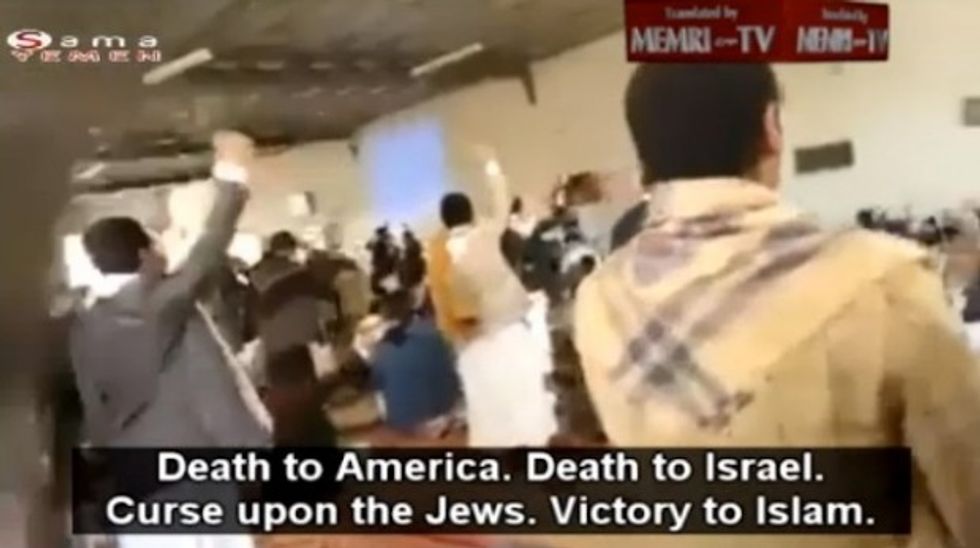 Men in the mosque shouted "Death to America," "Death to Israel" and "Victory to Islam" moments before the suicide bomber detonated his explosives. (Image source: MEMRI)
As the men shout, "Victory to…" the bomb explodes at the Houthi Al-Hashoush Mosque in the capital of Sanaa, and pandemonium ensues just before the video clip ends.
Before the bomb exploded, the preacher said, "Our belief in Allah will increase after today. We will triumph over their deceit and their arrogance. Allah is with us."
Four suicide bombers struck a pair of mosques controlled by Shiite Houthi rebels in Sanaa, killing at least 137 people.
A group claiming to be a Yemeni branch of the Islamic State group claimed responsibility for the attack and warned of an "upcoming flood" of more to come.
Here is the translated video, courtesy of MEMRI: