After France's "tide of the century" slammed the country's North Atlantic coast and transformed the iconic Mont Saint Michel into an island, scientists made a prehistoric discovery.
In the wake of the tidal phenomenon, paleontologists uncovered hundreds of dinosaur footprints, ABC News reported. The discovery was made on a beach in Vendee.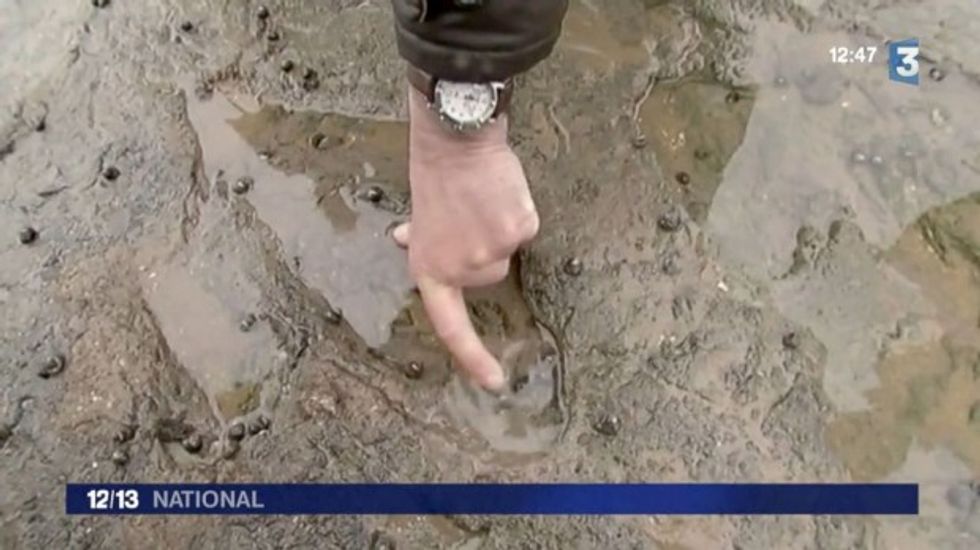 Image source: Screen grab of France's Channel 3 via ABC News
"This open-air museum of dinosaur footprints counts among the richest we have from the Jurassic era," local authorities reportedly wrote on the city's website.
According to ABC News, the prints were some 200 million years old and measured 17 inches wide. They are only visible when the tide is low and were initially noticed in 1963 by a local scientist.
Amateur paleontologists told France's Channel 3 that the footprints were likely made by animals that stood approximately eight to nine feet tall. ABC News reported that a dozen various species once roamed the area.
—
Follow Oliver Darcy (@oliverdarcy) on Twitter