When it comes to American retirement, many people head to a few tried-and-true destinations, settling down near the relatively affordable beaches of Florida or sticking near family in the middle of the country.
But perhaps seniors should be looking to a region associated with the proverbial young man: the West.
In a study of American states released Monday, financial services company Bankrate found that the wide-empty spaces of Wyoming are the best place in the U.S. to retire, mainly due to low taxes, low crime and great weather.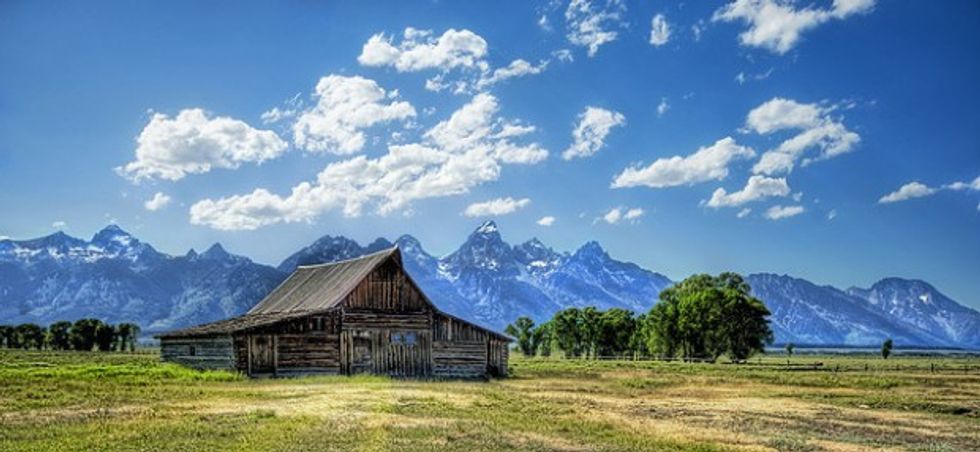 The blue skies over a Wyoming ranch. Bankrate ranked Wyoming as the No. 1 state for retirement in a study released Monday. (Image via Trey Ratcliff/flickr)
Other Rocky Mountain states including Colorado, Utah and Idaho filled out the upper echelon, while only one state east of the Mississippi River — Virginia at No. 5 — made the top 10.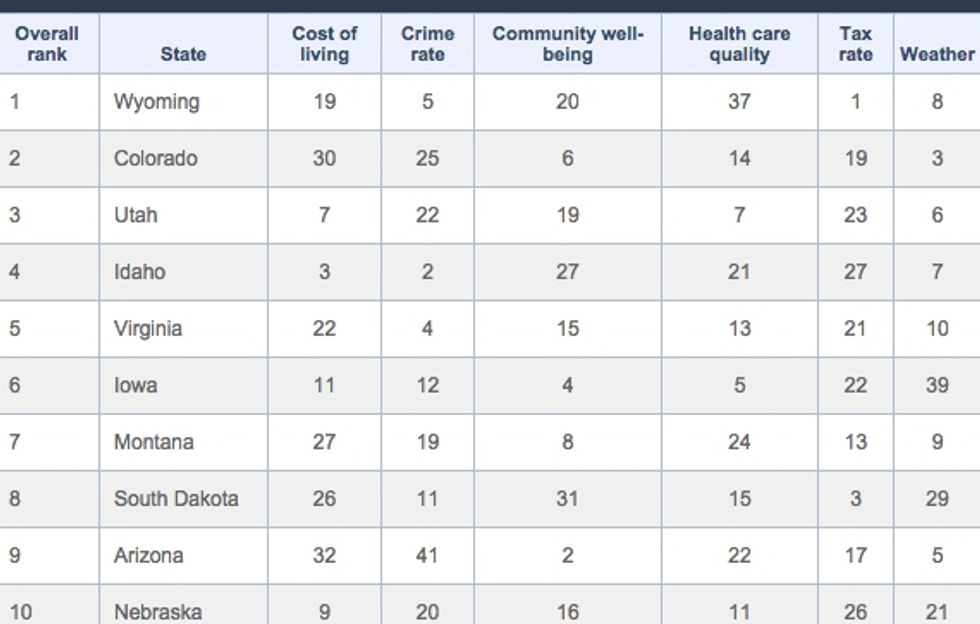 Image via Bankrate
Bankrate's study weighed a broad range of factors including crime rate, cost of living, taxes and weather.
Bankrate's Caroline Farhat noted that factors were weighted based on what Americans valued, explaining that while 25 percent of Americans would prefer to live near a beach, 40 percent prefer living near mountains and rivers — which Wyoming has in abundance.
Odds are that any given retiree doesn't have family in Wyoming, the least-populated state in the nation, but apparently that wouldn't deter most Americans from retiring there — only 24 percent of Americans said being close to family is the most important factor in choosing a retirement destination, Farhat said.
States commonly associated with retirement performed poorly in Bankrate's analysis, with Florida coming in at No. 28 and Hawaii, dragged down by the highest cost of living in the nation, slipping in at No. 44.
The five worst states in which to retire, according to Bankrate: Louisiana, West Virginia, Alaska, New York and Arkansas.
See the complete rankings at Bankrate here.
—
Follow Zach Noble (@thezachnoble) on Twitter