A county sheriff from Texas told the Senate on Tuesday that his region of the state is seeing a huge increase in the smuggling of illegal aliens and drugs from Mexico into the United States, and that criminal cartels are starting to recruit Texas children to help them commit these crimes.
"We, who live in and near border communities where cartel drug and human smuggling operations are prevalent, face additional public safety issues such as home invasions; felony vehicle evasions; pseudo police stops; extortion, kidnappings, sexual assaults of illegal aliens, and the recruitment of Texas children to transport drugs, people, and stolen vehicles across the border," Benny Martinez, chief deputy sheriff in Brooks County, Texas, told the Senate Homeland Security Committee in prepared testimony.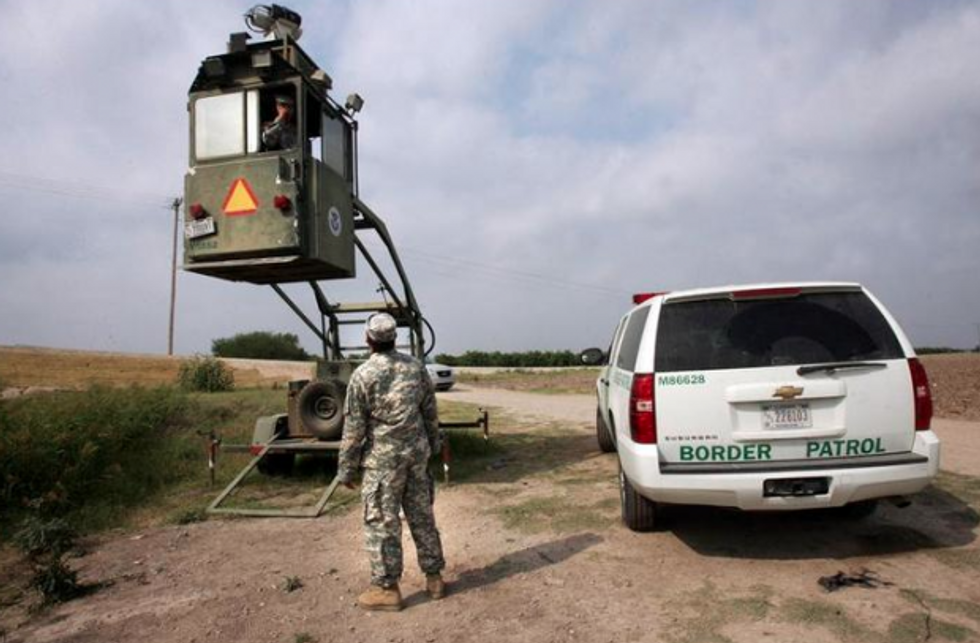 A member of the National Guard checks on his colleague inside a Border Patrol Skybox near the Hidalgo International Bridge in Texas. A Texas county sheriff told the Senate Tuesday that criminal cartels are recruiting Texas children to move people, drugs and cars through Texas. Image: AP Photo/Delcia Lopez, File
He said gang members have been linked to the murders of school-age children in his county.
Martinez's county is located just north of McAllen, Texas, a major border checkpoint, and he said there is another checkpoint inside Brooks County that is about 70 miles north of the U.S.-Mexico border. That checkpoint is right on Highway 281, and he said it was the busiest checkpoint in the country when it comes to border apprehensions.
But he said smugglers are routinely dropping off people and drugs before that checkpoint, and having them move through private ranch land until they have moved north of the checkpoint.
"In most cases, smugglers/coyotes drop off undocumented crossers and drug smuggling backpackers on the south side of the Falfurrias checkpoint," he said. "They are led by the smugglers and made to walk east and west of Highway 281, moving north through private ranch lands, to then get picked up on Texas Highway 285 by other smugglers who will then transport them on the Gulf Coast corridor to cities north."
Martinez said many of the people who try to dodge the checkpoint don't make it. He said more than 400 bodies have been found in the last six and a half years.
"We estimate that we recover less than half of all those who perish," he said. "From 2008 to 2014 the Brooks County has spent almost $700,000 for body recoveries."
He said local law enforcement has had its victories against the criminal cartels, but he said those victories are coming at a price. He said the gang members are starting to shoot back at law enforcement.
"The gangs and cartels have been responsible for shootings at law enforcement officers patrolling the Rio Grande River and they've contributed to the deaths of undocumented crossers on Texas ranches and farms," he said.
Martinez said he has also heard evidence that some gang members are trying to intimidate or even harm or kill specific officers, such as himself. He said in one case, two members of the Zeta drug gang were made they lost 1,100 pounds of marijuana to local law enforcement.
"They heard that Benny Martinez was in charge of law enforcement in the county and the Zeta members wanted to know where Benny and one of his deputies lived so that they could make Benny talk," Martinez said.
"Until the United States is serious about securing the border, the transnational criminal organizations will continue to operate on the border, within small rural communities, and throughout all major cities of this nation," he concluded. "I hope and pray that this committee will recommend strong measures be taken and acted upon to do just that."
Read Martinez's testimony here: