© 2023 Blaze Media LLC. All rights reserved.
College Student Gets Kicked Off Flight After People Noticed What Was on His Shirt
"Can we take a poll?"
He said the situation "happened so fast" he was left stranded and bewildered, but video from the day shows airline employees offering compromise after compromise.
The issue: the man's "Broad F*****g City" T-shirt.
KTVI-TV reported Monday on the story of Daniel Podolsky, a New York college student who was flying home from the South By Southwest festival, had a layover in St. Louis and was booted from his next flight by Southwest Airlines employees because his T-shirt — advertising a Comedy Central show, which Podolsky said he got for free at the festival — was offensive.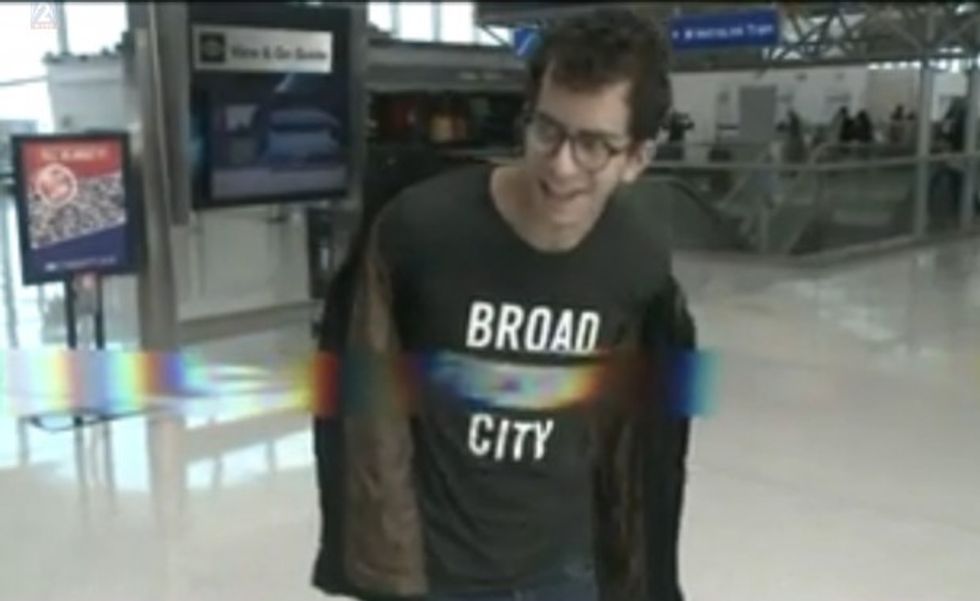 Daniel Podolsky wearing the offensive shirt that got him kicked off his flight. (Image via KTVI-TV)
Podolsky told KTVI that he was caught off guard by the situation, when he was yanked off the plane after boarding and didn't have the chance to change his shirt.
"It just happened so fast," Podolsky said. "Within 30 seconds the flight was gone. I mean I would have gladly [changed or covered the shirt]."
But then Podolsky gave KTVI video he'd recorded of his exchanges with Southwest employees — video that tells a very different story.
"Can you change the shirt?" an employee asks in the video.
"Nope," Podolsky responds.
"Can you put the jacket on and leave it on through the flight?" the worker asks.
Podolsky's response is inaudible.
The worker tries again, "Can you put the shirt on inside out?"
Podolsky's response: "Nope."
"Is there anything you can do not to display the shirt because at this point we can't allow you to go," the worker pleads.
Podolsky appeals to his freedom of speech, but the worker responds, "I can show you in our contract of carriage that you can't wear any shirts that says offensive-"
Podolski interrupts, "Can we take a poll?"
Podolsky missed his flight, but was later allowed to board a different Southwest flight to New York Monday evening — after he changed his shirt.
What do you think? Take the poll — as Podolsky suggested to airline employees — below.
(H/T: Daily Mail)
—
Follow Zach Noble (@thezachnoble) on Twitter
Want to leave a tip?
We answer to you. Help keep our content free of advertisers and big tech censorship by leaving a tip today.
more stories
Sign up for the Blaze newsletter
By signing up, you agree to our
Privacy Policy
and
Terms of Use
, and agree to receive content that may sometimes include advertisements. You may opt out at any time.