© 2023 Blaze Media LLC. All rights reserved.
Newt Gingrich: America is losing to radical Islamic terrorism under Obama
Former House Speaker Newt Gingrich told his former colleagues on Tuesday that America and its allies are losing both the military and the cultural war against radical Islam, in large part because the Obama administration has refused to identify the enemy, and has purposefully tried to downplay the movement's growing strength.
"It is the case that after 35 years of conflict, dating back to the Iranian siege of the American embassy in Tehran and the ensuring hostage crisis, the United States and its allies are losing the long global war with radical Islamists," Gingrich told the House Homeland Security Committee Tuesday.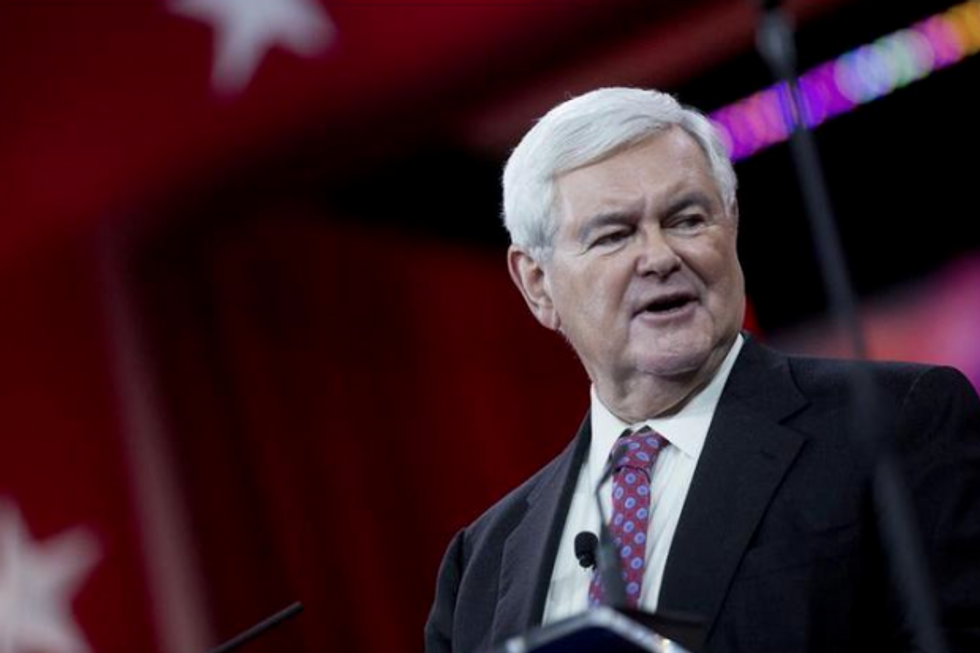 Former House Speaker Newt Gingrich said America is losing the war against radical Islamic terrorism, and blamed President Barack Obama for failing to identify the enemy. Image: Bloomberg/Bloomberg via Getty Images
"We are losing to both the violent jihad and to the cultural jihad," he said.
Gingrich said it's clear that radical Islamic violence is now taking place around the world, whether Obama says so or not. Gingrich cited Paris, Australia, Tunisia, Syria, Iraq, Libya, Egypt, Gaza, Nigeria, Somalia, Afghanistan and Yemen as examples of where this violence is happening, and where these battles are being lost.
He said the cultural fight against radical Islam is even more insidious, since failing to fight back will start to affect the way people talk and think about the threat. Exhibit A is Obama's unwillingness to even name the enemy that is attacking America, he said.
"Cultural jihad is winning when the Department of Defense describes a terrorist attack at Ft. Hood as workplace violence," Gingrich said. "Cultural jihad is winning when the president refers to random killings in Paris when they were clearly the actions of Islamist terrorists and targeted against specific groups."
"Cultural jihad is winning when the administration censors training documents and lecturers according to sensitivity, so they cannot describe radical Islamists within reference to the religious ideology, which is the primary bond that unites them," he added.
Many other Republicans have complained about the administration's reluctance to name the enemy, which Gingrich chalked up to "willful ignorance."
"The president's own press secretary engages in verbal gymnastics to avoid identifying the perpetrators of violence as radical Islamists," he said. "Josh Earnest said such labels did not 'accurately describe our enemies' and that to use such a label 'legitimizes them.' "
"This is Orwellian doublespeak," Gingrich said. "The radical Islamists do not need to be delegitimized, they need to be defeated. We cannot defeat what we cannot name."
Gingrich contrasted Obama's stance with that of the Islamic State, which has shown a knack for communicating over social media far more effectively than the Obama administration. "ISIS is better at tweeting than the United States government," he said.
Gingrich said another part of the problem is that the government has selectively told Americans about Al Qaeda and its related groups in order to downplay the threat.
"There is clear evidence the American people have been given remarkably misleading analysis about Al Qaeda based on a very limited translation and publication of about 24 of the 1.5 million documents captured in the bin Laden raid," he said.
"A number of outside analysts have suggested that the selective release of a small number of documents was designed to make the case that Al Qaeda was weaker," he said. "These outside analysts assert that a broader reading of more documents would indicate Al Qaeda was doubling in size when our government claimed it was getting weaker."
Want to leave a tip?
We answer to you. Help keep our content free of advertisers and big tech censorship by leaving a tip today.
more stories
Sign up for the Blaze newsletter
By signing up, you agree to our
Privacy Policy
and
Terms of Use
, and agree to receive content that may sometimes include advertisements. You may opt out at any time.