Parents nervous about their newly minted teen drivers hitting the road on their own might consider getting a car that can keep tabs on them.
Chevrolet announced that its 2016 Malibu will feature a "Teen Driver" system, a tool that can "help encourage safe driving habits," says a news release about the vehicle set to debut at the New York Auto Show in April and to go on sale toward the end of 2015.
"We developed this system so parents could use it as a teaching tool with their kids — they can discuss and reinforce safe driving habits," General Motors safety engineer MaryAnn Beebe said in a statement. "As a mother of two, I know anything that has the potential of keeping one's family safer is of great value to parents."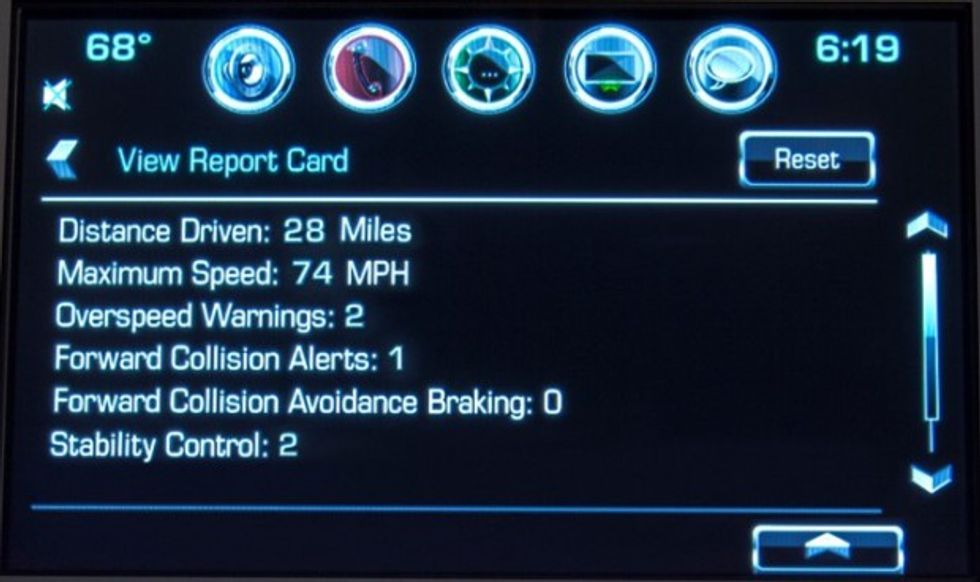 Teen Driver, available on the all-new 2016 Chevrolet Malibu, is the first in the industry with a built-in system that lets parents view on a display how their teenager drove the vehicle. Maximum speed reached, distance driven and number of times active safety features were engaged are among parameters that can be confirmed. (Image source: Chevrolet)
Here's a look at some of the Teen Driver features:
Stability Control
Front and Rear Park Assist
Side Blind Zone Alert
Rear Cross Traffic Alert
Forward Collision Alert
Daytime Running Lamps / Automatic Light Control
Forward Collision Braking
Traction Control
Front Pedestrian Braking
In addition, the company noted that the feature will mute the radio or other devices synced with the car if occupants are not wearing their seat belts. According to the National Highway Transportation Safety Board, drivers 16 to 24 years old were only 80 percent likely to wear their seat belt, and the majority of teens killed in car crashes are not buckled.
With Teen Driver parents can also set a maximum speed limit that if exceeded will send audio and visual warnings to the driver.
Teen Driver is a permanent feature in some Malibu models and an optional add-on in others. The feature needs to be activated in order to work, but no subscription is required.
"The first step with this technology is to make sure that all drivers and passengers within the car are safe," Steve Majoros, Chevrolet car marketing director, said in a statement. "In addition to innovative safety technologies like this, you will see efficiency, advanced connectivity and stunning design in the 2016 Malibu."
Watch how it works in Chevrolet's video:
Overall, NTSB says more than 5,000 teens are killed in vehicle crashes each year, making it the leading case of death for those age 16 to 20.
—
Front page image via Shutterstock.