© 2023 Blaze Media LLC. All rights reserved.
Ten-Year Mystery Involving a Dog and a Mysterious Purple Heart Finally (Mostly) Solved
Simply amazing.
Ten years ago, Steve Jankousky's dog unearthed a symbol of one of the nation's highest honors. Today, it's been returned to its rightful place.
Jankousky's dog, named Smuckers, was playing in the backyard in 2005 when it drug up something curious. Not giving much thought as to what it might be, Jankousky began putting the dirt back into the hole, USAToday reported. That's when he saw something shiny.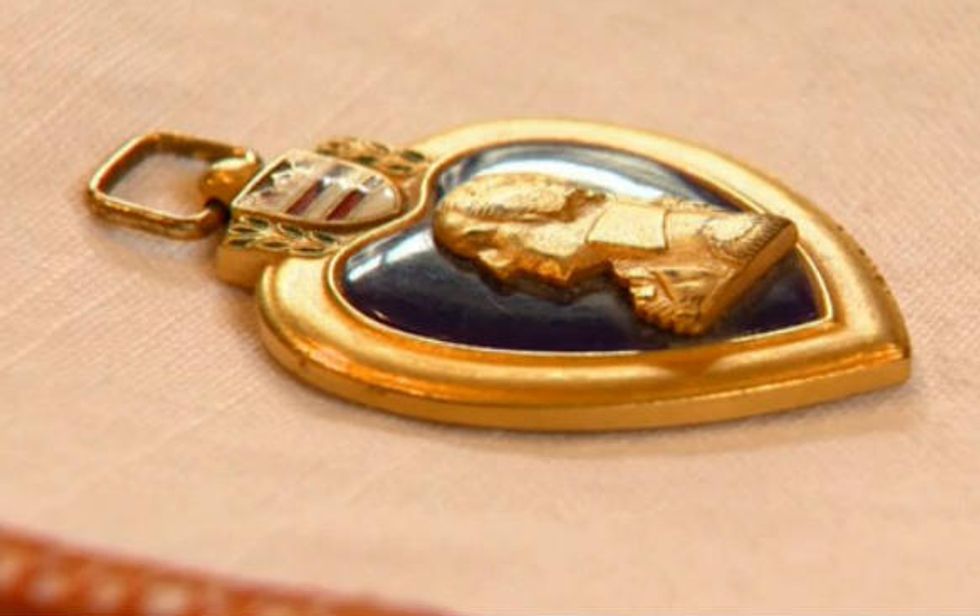 Image source: KUSA-TV
It was a Purple Heart medal, an honor reserved for American soldiers wounded in battle. Jankousky had no idea how it got there, but he did know who it belonged to. On the back was inscribed the name "Cpl. Richmond L. Litman." The challenge then became finding Litman, or a member of his family.
Jankousky has since moved out of the home where the medal was discovered but he took the medal with him when he left. Recently, he discovered an organization called Purple Hearts Reunited, a Vermont-based organization with a mission designed for this very situation.
Purple Hearts Reunited worked with Jankousky to determine the rightful recipient, but had no luck. That is, until this weekend when the soldier's daughter stepped forward to claim it, the Denver Post reported.
Her father, Army Cpl. Richmond L. Litman, earned the medal after serving in the Korean War in 1950. He died in 1990 and is now buried with his wife, Ida, at Fort Logan National Cemetery in Denver.
Litman's daughter said she learned of the missing medal while watching the news Sunday night. She called Zachariah Fike, the founder of Purple Hearts Reunited, around midnight the same evening to tell him it was her late father's.
While the medal is now back with Litman's family, it's still somewhat a mystery as to how it got into what used to be Jankousky's backyard. The daughter did say, however, that members of her family lived about a block away from the house at one point and she herself doesn't live far away, according to the Denver Post.
The rest of the mystery is one the daughter intends to solve. She told Fike that she plans to talk with family members in search of clues that could offer her an answer.
Purple Hearts Reunited plans to commemorate the event by hosting a ceremony next week where Smuckers, now 11-years-old, will "personally" return the medal to Litman's daughter.
(H/T: Denver Post)
–
Follow Jon Street (@JonStreet) on Twitter
Want to leave a tip?
We answer to you. Help keep our content free of advertisers and big tech censorship by leaving a tip today.
more stories
Sign up for the Blaze newsletter
By signing up, you agree to our
Privacy Policy
and
Terms of Use
, and agree to receive content that may sometimes include advertisements. You may opt out at any time.