The departments of Education, Agriculture, and Health and Human Services defended their push for healthier school lunches on Tuesday by claiming the new nutritional standards are a "success," and said the people who developed those standards "know better than anyone" how to feed your children.
"The bottom line is that these meal standards were developed by our nation's best doctors, nurses, dieticians [sic] and scientists — not our politicians," the departments wrote in a blog post. "These medical and nutrition professionals know better than anyone that healthy options mean healthy kids, and later, healthy adults."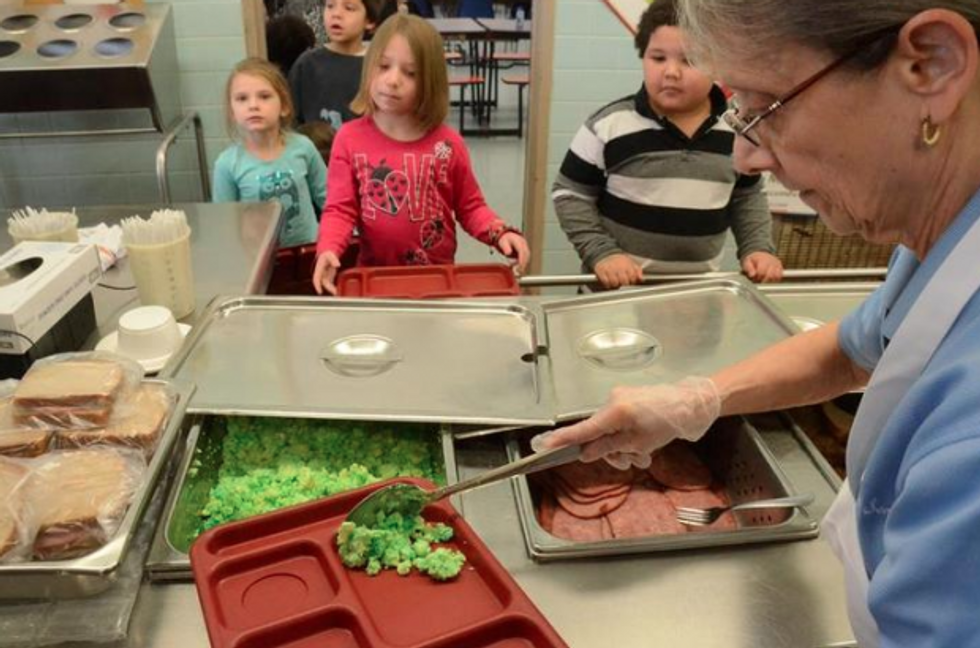 AP Photo/The Berkshire Eagle, Gillian Jones
Changes to the school lunch program have been controversial in part because of reports that many kids are finding they aren't getting enough to eat. But the three federal departments downplayed those reports, and said polls show most people like the changes.
"A September 2014 survey by the Pew Charitable Trusts and the Robert Wood Johnson Foundation found that most parents (72 percent) support strong national nutrition standards for school meals," the agencies wrote. "Another study, published last July in Childhood Obesity, found that 70 percent of middle school students and 63 percent of high school students like the school meals."
"As these studies show, the new school meals are a success," they added.
That claim goes against other studies that show the nutrition standards put in place in 2012 are only leading to more food waste. Just a few months ago, the Johns Hopkins Bloomberg School of Public Health ran a study that showed only 59 percent of school kids chose a fruit or vegetable, and just a quarter of those kids ate any of it.
And in October, the National Schools Boards Association reported that 83 percent of school districts were seeing an increase in wasted school lunches since the rules took effect. "Trays of uneaten cafeteria food thrown in the trash, hungry kids, and struggling school food-service programs are the practical realities many school districts and students face," that study said.
But the three federal departments countered those points with their own studies that show kids aren't actually throwing their food away.
"Some predicted that kids would reject healthy food and throw more food away, but a recent Harvard study showed that, thanks to the updated standards, kids are now eating 16 percent more vegetables and 23 percent more fruit at lunch," they said. "Another study, published earlier this month by the Rudd Center for Food Policy and Obesity at the University of Connecticut, reiterated that point, showing that kids are eating more of the healthy food and throwing less food away."
While the dueling studies show that the science may not be settled, many kids have complained that in an effort to serve healthier food, many students are still hungry after eating their paltry meals. But the Obama administration said that's just tough luck, because American kids are too fat and need to slim down.
"A handful of vocal critics will tell you otherwise — that school meals were better in the 'old days,' " the administration wrote. "But the old days are no longer acceptable, not when our children are battling an obesity epidemic that impacts the long-term health of the American people and, according to retired U.S. generals, threatens our national security by making almost one in three young adults unfit to serve in our nation's military."