Afghan President Ashraf Ghani thanked American taxpayers and their representatives in Congress for helping to rebuild his country, and promised that his refocused nation would become a reliable ally against the growing threat of Islamic State in the region.
"I'd like to begin by thanking the people of the United States, whose generous support for my country has been of such immense value in advancing the cause of freedom," he said to applause.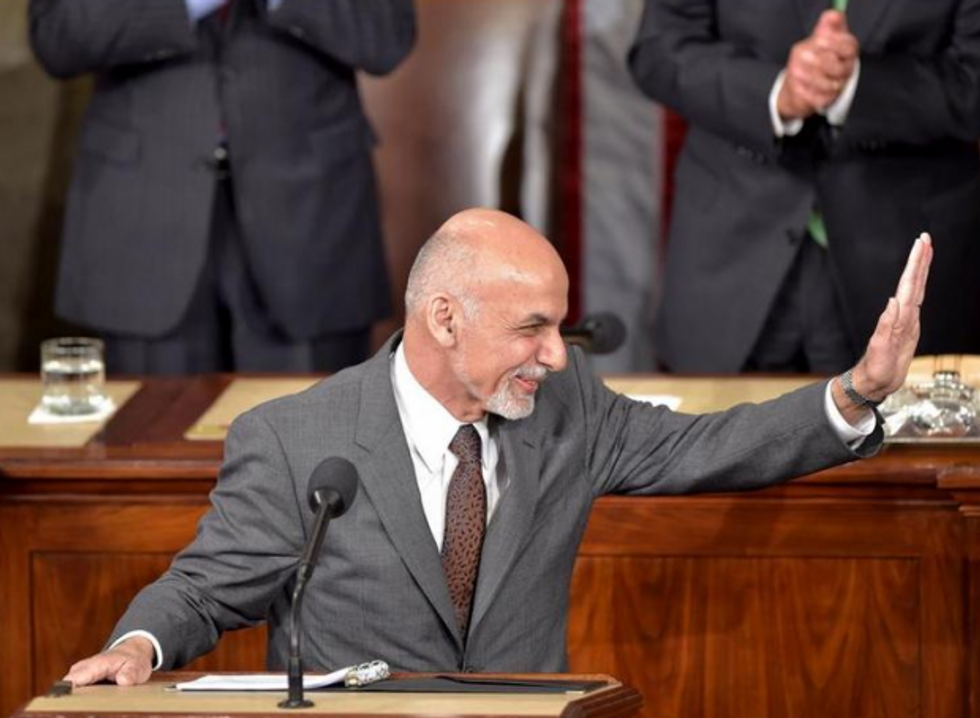 Afghan President Ashraf Ghani explicitly thanked U.S. taxpayers for helping to fight for and rebuild his country, and said Afghanistan would be a strong ally in the fight against terrorism. Image: NICHOLAS KAMM/AFP/Getty Images
"More than 1 million brave Americans have served in Afghanistan," he said. "In return, the people of Afghanistan recognize the bravery of your soldiers and the tremendous sacrifices that Americans have made to keep Afghanistan free."
Ghani graciously thanked the thousands of U.S. soldiers who were either killed or wounded in his country, the thousands of Americans who helped rebuild his nation, and explicitly thanked U.S. taxpayers for making those achievements possible.
"We must acknowledge with appreciation, that at the end of the day, it's the ordinary Americans whose hard-earned taxes have over the years built the partnership that has led to our conversation today," he said. "I want to thank the American taxpayer, and you, their representatives, for supporting us."
He also thanked President Barack Obama. "I like and appreciate his clear and disciplined approach to American engagement," he said.
Ghani, who met with Obama on Tuesday, thanked Americans for keeping nearly 10,000 U.S. troops in Afghanistan through 2015. Obama agreed to that extension on Tuesday, and in doing so, seemed to acknowledge the criticism he's faced for pulling out of Iraq, a move some say led to the rise of the Islamic State.
Obama said Tuesday that the U.S. would delay the withdrawal of U.S. troops from Afghanistan, "in part because we want to make sure that we're doing everything we can to help Afghan security forces succeed so we don't have to go back, so we don't have to respond in an emergency because … terrorist activities are being launched out of Afghanistan."
Ghani stressed that while his country was still making strides toward the rule of law and democratic reforms, he said Afghanistan stands ready to work with the U.S. to eliminate terrorist threats in the region.
"Today I would like to return that gift of free-born hope, by offering the American people a partnership with a nation that is committed to the cause of freedom and that will join the fight against the growing threat of terrorism," he said.
"We are willing to speak truth to terror," he added to applause.
He said part of the mission is to help the Islamic civilization "reinvent itself," and to remind the Islamic world of it's "gloriously tolerant and inquisitive past."
He said Afghanistan's goal is to let it's people lead "ordinary lives."
"To go to school, and to come back," he said. "To shop without being blown up. To play volleyball without being attacked."
He said empowering women is a big job for Afghanistan as well.
"On September 10, 2001 — this will no longer shock you — there were no girls enrolled in school in Afghanistan," he said. "It was illegal to educate girls. Today, more than 3 million girls in primary schools across the country are learning to openly and actively participate in the future of a democratic Afghanistan."
Ghani said the fate of America and Afghanistan were tied together on 9/11, and concluded by pledging to work with the U.S. to continue the fight.
"Together, our two countries will finish the job that began on that clear, terrible September morning almost 14 years ago," he said. "We have the will, and we have the commitment that will anchor our country and the world community of peaceful democratic nations."