U.S. Ambassador to Libya Deborah Jones has said "maasalamah" — Arabic for goodbye — to Twitter following a torrent of critical messages she received after posting an unverified report earlier this week that a government airstrike had killed eight civilians.
Jones on Monday tweeted, "Terrible news today from #Tarhouna where 8 innocent displaced #Tawergha killed in air strikes. This violence serves no one's interests."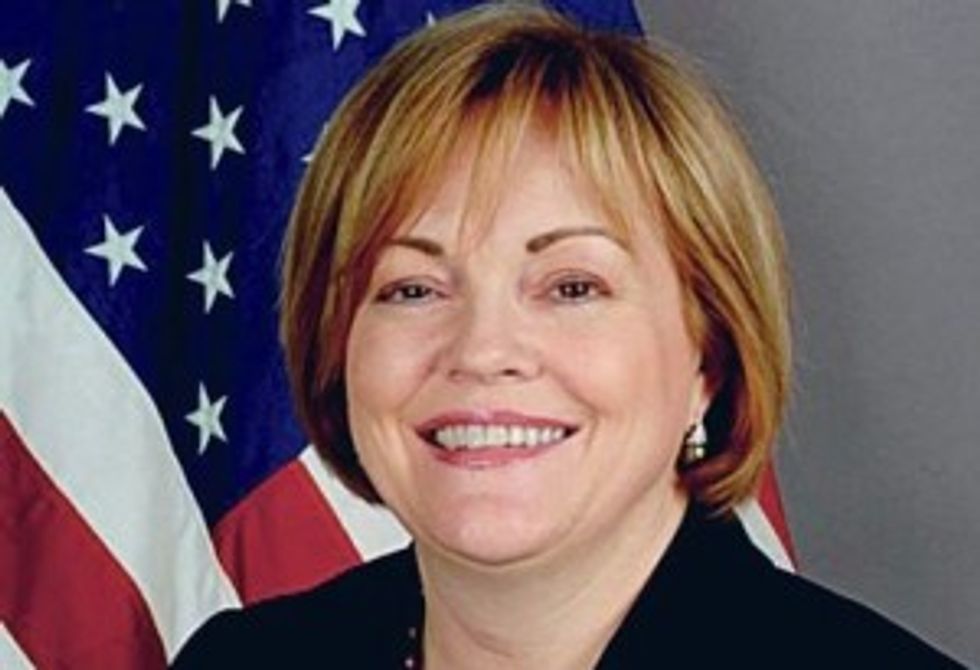 U.S. ambassador to Libya Deborah Jones (Image source: U.S. embassy Tripoli)
A slew of messages responding to her post accused the ambassador of siding with Islamist militants.
In a report following up on the ambassador's tweet, Reuters quoted the town spokesman Mohamed al-Tarhouni who said nobody had been killed in the airstrike, which he said hit an empty farm.
Meanwhile, the Libya Herald reported that a family of eight was killed in a home on the same day and in the same town in a revenge attack by anti-government Islamist militants.
Multiple responses to the ambassador on Twitter insisted the eight had been killed by militants, not in a government airstrike.
Jones later slightly amended her original post in a follow-up tweet blaming violence on both the Islamists and the Libyan government which – according to the Guardian - issued a statement accusing her of "falsification."
"My last tweet based on sources on both sides. Numbers may need correction but bottom line remains: violence serves no one," Jones wrote.
Her follow up message prompted further accusations she was siding with the Islamists.
@SafiraDeborah Stop talking , stick on supporting the dialogue and writing poetry, everything you say makes it worse !

— Marqus (@Ali_Latife) March 23, 2015
@SafiraDeborah Why do you that to Libyans people ?? why do you stand with Libya Dawn ??

— مراسل نفسي (@LibyanSniper17) March 23, 2015
One critic noted Jones has a responsibility to post only verified information, especially given her 50,000 followers on Twitter.
@SafiraDeborah reaction is to the information you are spreading, make sure it's true before tweeting. Ppl look up to you

— Matog Saleh (@MatogSaleh) March 23, 2015
Jones later issued a string of goodbye messages to her Twitter followers and detractors including these:
Ps sadly I have begun to block those who use vulgarity or call for harm to me or my family. Disagree with me but do so with dignity

— Safira Deborah (@SafiraDeborah) March 23, 2015
Dear Tweeps -and not so dear Tweeps- when I opened a Twitter account last year it was to encourage a transparent dialogue with all Libyans

— Safira Deborah (@SafiraDeborah) March 23, 2015
I have concluded it is best to cease efforts to communicate via Twitter insofar as it distracts from our goal of peace & stability 4 #Libya

— Safira Deborah (@SafiraDeborah) March 23, 2015
Getting to know thoughtful, dedicated Libyans via Twitter has been an inspiration & given me great hope 4 Libya's future. I wish you well.

— Safira Deborah (@SafiraDeborah) March 23, 2015
Masalaamah

— Safira Deborah (@SafiraDeborah) March 23, 2015
Reports are still murky as to what really happened Monday. Al Arabiya quoted pro-government forces that said the airstrike hit an Islamist militia's arms depot, but the militia — like the ambassador — said the airstrike had killed eight refugees.
An AFP photographer who traveled to the site said the airstrike left a large crater in a field near the village but that there was no further sign of damage.
Jones replaced slain U.S. Ambassador Christopher Stevens, who was killed along with three other Americans in the attack on a U.S. diplomatic outpost in Benghazi in 2012.