Republicans on the House Oversight and Government Reform Committee have asked the White House for all notes, talking points and other documents that were used to inform National Security Adviser Susan Rice when she said Army Sgt. Bowe Bergdahl served the U.S. with "honor and distinction."
Rice's comment from June 1, 2014, is being reexamined after the Army announced it would charge Bergdahl with desertion and misbehavior. Those charges could add up to a life sentence for Bergdahl, and radically undermine the White House's rationale for giving up five Taliban prisoners in order to get Bergdahl back home.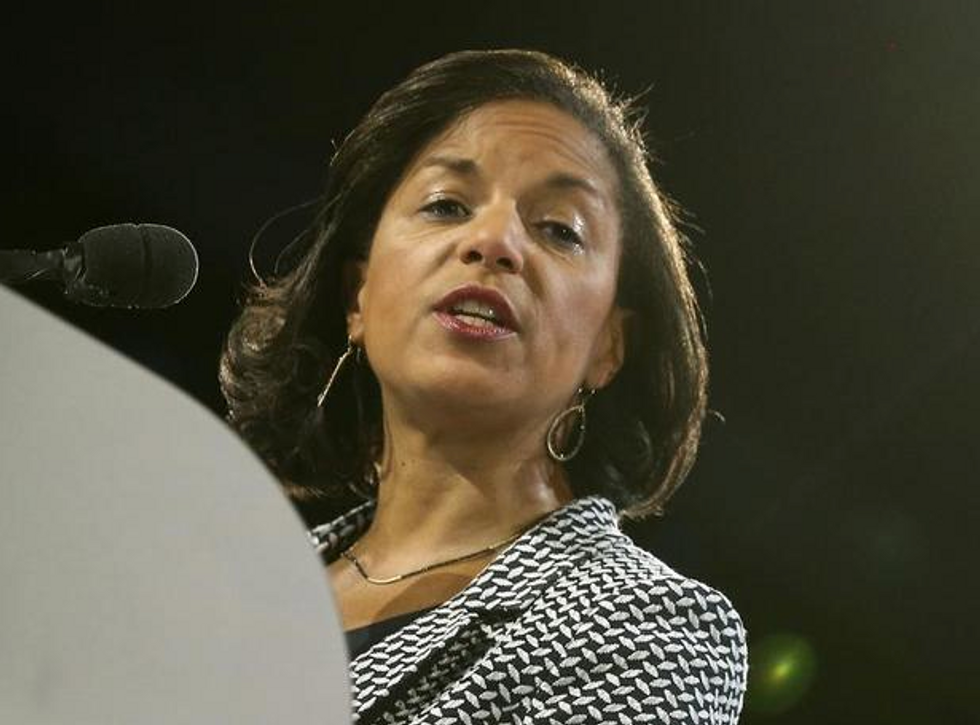 Republicans are once again after information about talking points written for National Security Adviser Susan Rice — this time, they want to know why she said Army Sgt. Bowe Bergdahl served with 'honor and distinction.' Image: Mark Wilson/Getty Images
Susan Rice has gotten in trouble over talking points before. When she was the U.S. ambassador to the United Nations, she famously said in public that the attack against the U.S. consulate in Benghazi, Libya, was "spontaneously inspired" by protests against an anti-Muslim video. It became clear later that the attack was pre-meditated, and that her talking points were scrubbed to remove any reference to Al Qaeda or other terrorist groups.
Regarding Bergdahl, Republicans had criticized the decision to swap him for five Taliban soldiers even before it was officially known that Bergdahl might be charged with abandoning his post, which led to the death of six U.S. soldiers who died while trying to rescue him. Many GOP members said then, and continue to say today, that the swap was a bad idea because it tells terrorists around the world that the U.S. will negotiate with them.
But with the charges filed against Bergdahl, Republicans now want to know how the White House could have justified a comment like the one Rice made, which at the time helped the White House explain its actions.
"The day after that transfer, June 1, 2014, White House National Security Adviser Susan Rice appeared on the ABC television program This Week," Committee Chairman Jason Chaffetz (R-Utah) and Rep. Ron DeSantis (R-Fla.) wrote to White House Chief of Staff Denis McDonough on Thursday. "In response to questions from host George Stephanopoulos about Sgt. Bergdahl, Rice stated: 'He is going to be safely reunited with his family. He served the United States with honor and distinction. And we'll have the opportunity eventually to learn what has transpired in the past years.' "
Chaffetz and DeSantis asked McDonough to produce "all documents, memoranda, notes, talking points, and records that were created in relation to National Security Advisor Susan Rice's appearance on This Week on June 1, 2014."
Their letter also asked for all related documents that might explain how the administration reached the decision to do the prisoner swap, and argued that all the publicly available information still doesn't explain why that decision was made.
It asked for all intelligence, reports and other information about Bergdahl's disappearance, how he was detained in Afghanistan, and all intelligence and discussions that led to the decision to conduct the swap.