Audio and video has emerged showing Indiana state Rep. Vanessa Summers (D-Indianapolis) going after one of her Republican colleague's 18-month-old son in attempt to make a point about prejudice during a recent House floor debate over the state's controversial "religious freedom bill."
While making her case against the Religious Freedom Restoration Act earlier this week, Summers said of GOP Rep. Jud McMillin's young son, "I love his little son, but he's scared of me because of my color — and that's horrible."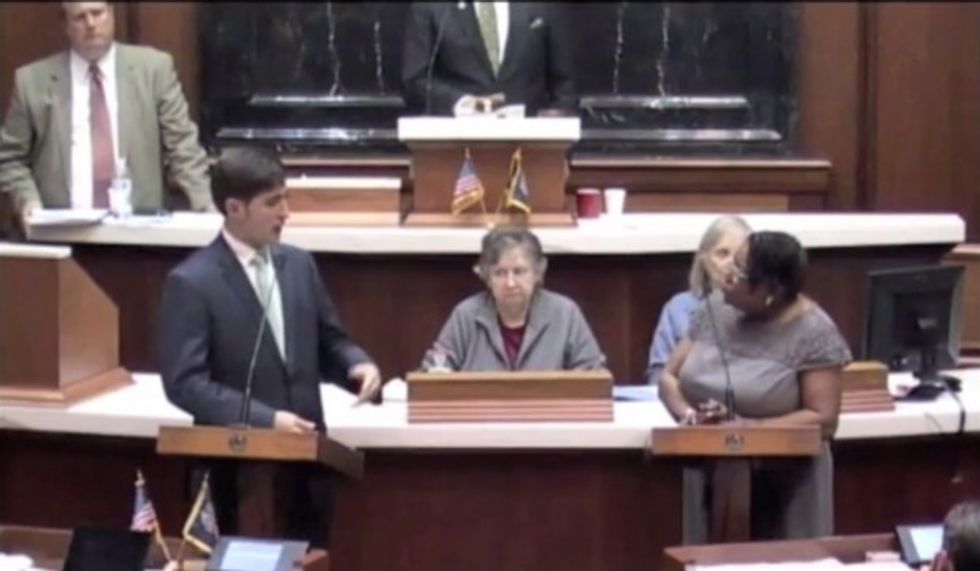 (Screengrab via Wistia video)
Lawmakers could be heard gasping and groaning at the comment.
"It's true," Summers said defiantly. "And that's something we are going to work on. … I asked him please, 'Introduce your child to some people of color so he won't live his life as a prejudice person.' I would like for you all to not vote for this bill."
Listen to the comments via Indy Politics:
Even after the hearing, Summers stood by her comments about her colleague's son displaying racist behavior.
"He looked at me like I was a monster and turned around and cried. And I told him you need to introduce your child to some people that are dark-skinned so he will not be scared," she told the Indy Star.
McMillan, who is white, rushed in to defend his son from the "unfortunate" comments, saying, "if he reacted the same way he reacts with anybody brand new, he buries his head in his dad's shoulder."
He continued: "Whoever it is, it's what he does. He's an 18-month-old kid; he's in a new environment up here in the place like the Statehouse but doesn't know anybody. I honestly don't remember anything out of the ordinary."
Republican Indiana Gov. Mike Pence signed the "religious freedom" bill on Thursday. The Associated Press reports that the measure "prohibits state and local laws that 'substantially burden' the ability of people - including businesses and associations - to follow their religious beliefs."
You can see video of the exchange here.
(H/T: The American Mirror)
---