Just hours after Senate Minority Leader Harry Reid (D-Nev.) said he wouldn't run for office in 2016, progressive groups were already clamoring for Sen. Elizabeth Warren (D-Mass.) to take over and lead the Senate for Democrats in 2017.
"If Elizabeth Warren doesn't run for president, she should run for leader of the Senate," said Neil Sroka, communications director for Democracy for America.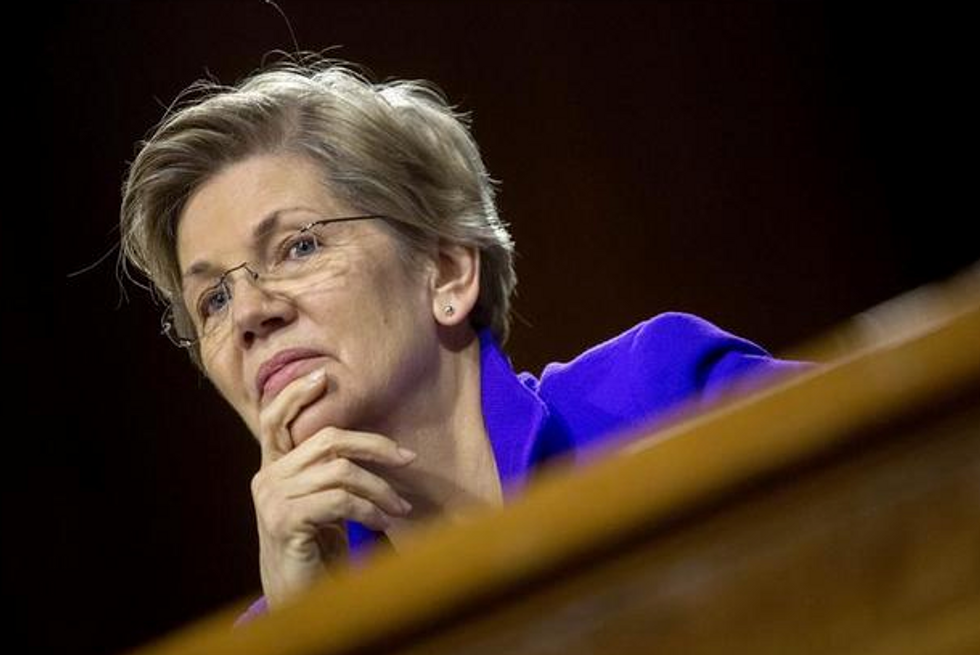 Left-leaning Democrats are already pushing Sen. Elizabeth Warren (D-Mass.) to lead Senate Democrats in 2017. Image: Bloomberg/Bloomberg via Getty Images
The Progressive Change Campaign Committee also endorsed Warren, and praised her effort late Thursday night to expand Social Security benefits and reduce student loan rates.
"She's the definition of a leader, and that's why her colleagues and millions of Americans respect her and are inspired by her rise," the group said. "There will likely not be a coronation to replace Harry Reid as Senate Democratic Leader, and Elizabeth Warren is right up there with others as someone who would be taken very seriously."
At this point, Warren would be a long-shot challenger to topple the more established Democratic leaders in the Senate. Most agree that Sen. Chuck Schumer (D-N.Y.), who leads policy and messaging efforts for Democrats in the Senate, is the clear front-runner to replace Reid.
Later Friday morning, Reid endorsed Schumer to take his place, an announcement that Reid himself said would ensure Schumer gets the nod. That statement would seem to make it very difficult for Assistant Democratic Leader Dick Durbin (D-Ill.) to make a bid to lead Democrats in the Senate.
But calls from progressive groups to elevate Warren could still complicate the effort to pick a new leader after Reid. Warren's left-populist stance on issues, especially on the need to regulate Wall Street and spare millions of Americans from student loan debt, resonate deeply within the Democratic Party.
That resonance prompted Senate Democrats to create a new leadership position for Warren — she's currently the strategic policy advisor to the Senate Democratic Policy Committee. When asked late last year what Warren would be doing in her new post, Reid made it clear that Democrats simply need to tap into her brand of populism.
"What do you expect her to do?," Reid said. "I expect her to be Elizabeth Warren."
Left-leaning groups have pushed for Warren to run for president, and so far, Warren has insisted that she won't run. She may also decide not to run for Reid's position.
But if she did, that move would likely create some immediate tension between her and Schumer, who enjoys very close ties to the financial industry that Warren has fought since she became a national figure. Warren helped create the Consumer Financial Protection Bureau when Democrats pushed through a huge Wall Street reform bill, and President Barack Obama nominated her to lead that agency.
Republican opposition eventually forced Warren to abandon that ambition, but just months later, she said she'd run for the U.S. Senate, and defeated Sen. Scott Brown (R) in 2012.