Like they did a week ago, "Black Brunch" protesters hit the Atlanta area on Palm Sunday to disrupt "white spaces" by walking into restaurants, standing among diners and loudly reading statistics and proclamations regarding black oppression.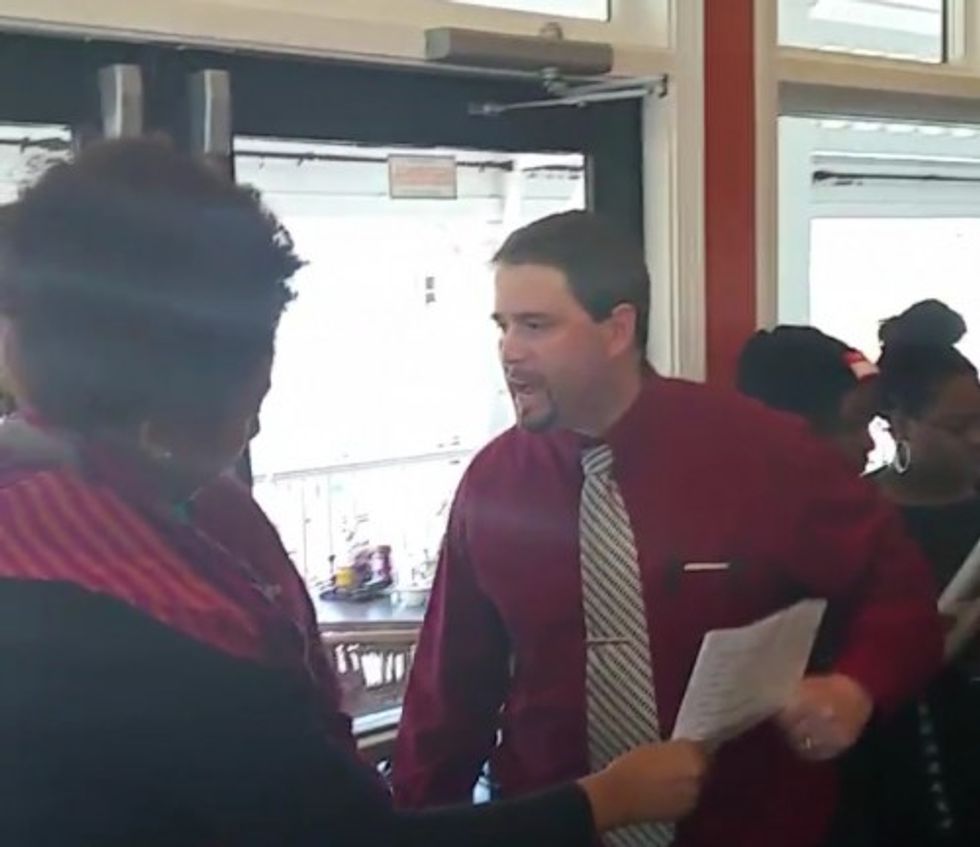 Image source: Twitter
Twitchy noted the latest protests, which were caught on cellphone video and spread around the Internet via social media.
In this clip a man who appeared to be a manager attempted to get protesters out of the eatery to no avail — not even when a woman told them, "You're scaring the children!"
Yesssss!!!! "@AUCShutItDown: White man says were scaring her children. Ours are scared too. #BlackBrunchATLpic.twitter.com/tf1m2vUISK""

— Traelyn Miller (@YouLoveTrae) March 29, 2015
Here diners simply left the restaurant during the protest:
Whites begin to leave. Too uncomfortable. #BlackBrunchATLpic.twitter.com/iZXwyWwfFN

— Avery. (@Philosavery) March 29, 2015
Protesters talked over this man's quiet pleas:
#BlackBrunchATL manager attempts to intimidate participants. pic.twitter.com/UAHSas2Ir7

— Avery. (@Philosavery) March 29, 2015
Some reactions:
Being uncomfortable brings change. I'm glad Whites are uncomfortable by this. Deal with it. #BlackBrunchATL

— Da'Shaun Harrison♚ (@_iAmRoyal) March 29, 2015
What better way to stop racism than to berate and shame people for the color of their skin? #BlackBrunchATL

— Jim Treacher (@jtLOL) March 29, 2015
Imagine if a #BlackBrunch dope did something productive like mentor young kids or teach literacy classes instead of their rabble rousing.

— LittleMissHoosier (@LilMissRightie) March 29, 2015
(H/T: The Gateway Pundit)
—
Follow Dave Urbanski (@DaveVUrbanski) on Twitter