Senate Minority Leader Harry Reid (D-Nev.) has brushed aside a damning government report that said he exerted political influence in order to win visas for investors who otherwise would have been turned down, by saying the report came from "whiners" in the government.
"The Homeland Security report came from a bunch of whiners at the Department of Homeland Security," Reid told KNPR radio. "They felt, I guess, that they weren't included in my conversation. Maybe I should have called them."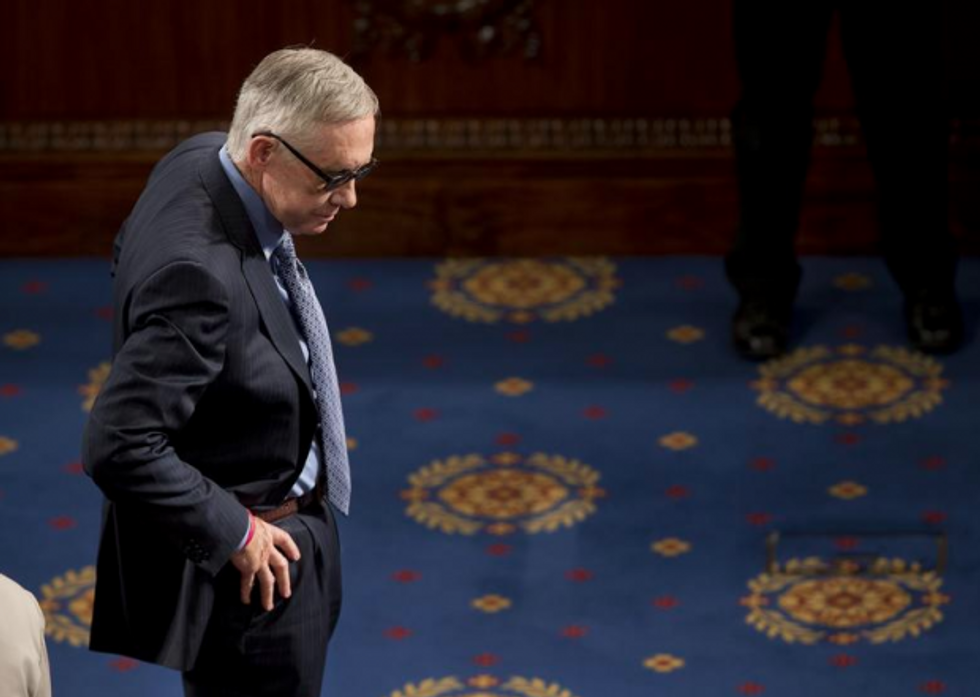 Senate Minority Leader Harry Reid (D-Nev.) dismissed a report saying he was involved in improperly influence a visa decision, by saying it was written by a 'bunch of whiners.' Image: AP Photo/Pablo Martinez Monsivais
Last week, the Department of Homeland Security's Office of Inspector General released a report that said in three cases, the agency would have decided against giving an investor-class visa to certain foreigners but for the political involvement of key Democrats. Harry Reid intervened in one case to help get a visa for a foreigner who wanted to invest in a Las Vegas hotel and casino.
The report said Alejando Mayorkas stepped into the process on Reid's behalf when he ran U.S. Citizenship and Immigration Services — Mayorkas is now deputy secretary of DHS. Mayorkas also intervened on behalf of Virginia Gov. Terry McAuliffe (D) and Anthony Rodham, Hillary Clinton's brother.
But while the report said these efforts led to a perception of "favoritism and special access" and demoralized staffers, Reid defended his involvement and said he'd do it again if he could. Reid said he stepped in to speed up what had been a slow process.
"I think one of the problems we have with government on every level … is people take too long to make decisions," he told KNPR.
"Basically what I said: Listen, Nevada has had some bad economic situations," he said. "We have people who want to invest at least $500,000 in Nevada. You get … this process as quickly as you can, stop waiting around."
"If I had it to do over again … I'd probably be stronger than I was," he added.
Reid said last week he would not run for re-election in 2016. On KNPR, he dodged a question about whether the OIG report is one of the reasons why he was retiring.
H/T: Washington Times