Democrats are once again proposing to expand the federal school lunch program to weekends and holidays, to create a full-time nutrition program during the school year for kids who are most at risk of going hungry when school is out.
The federal school lunch program currently gives kids free and reduced-price breakfast and lunch. But the sponsor of the Weekends Without Hunger Act, Rep. Dina Titus (D-Nev.), says thousands of kids run the risk of going hungry any time school is out, and that the federal government needs to step in and fill that gap.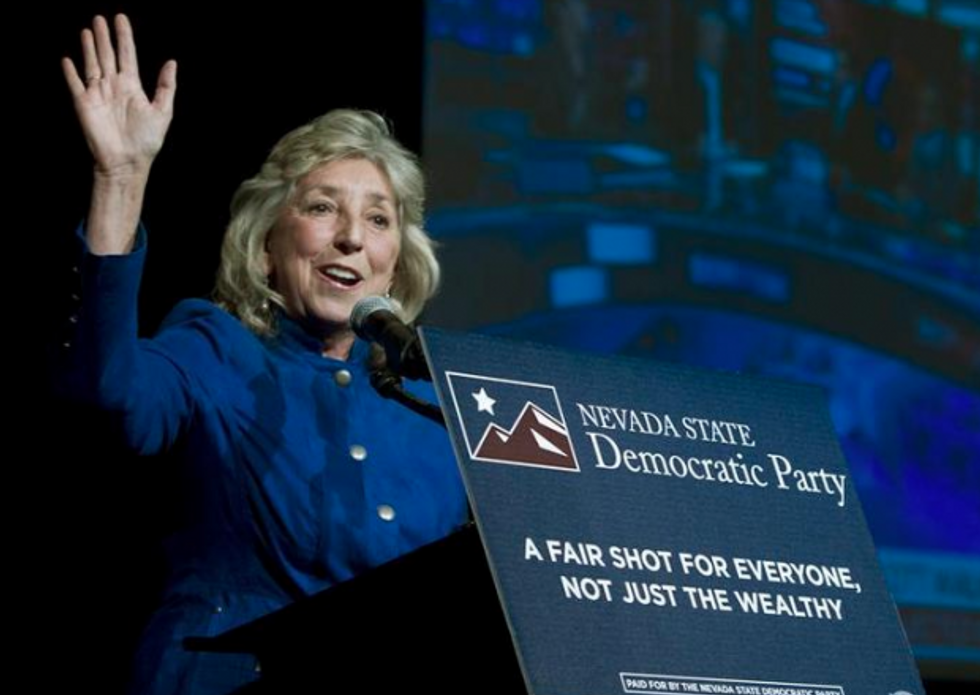 Rep. Dina Titus (D-Nev.) wants the school lunch program expanded to weekends and holidays. Image: AP Photo/Las Vegas Sun, Steve Marcus
"With 58 percent of Clark County school children relying on free and reduced price lunch programs, more than 170,000 students in southern Nevada are facing hunger at home, and many depend on school meals as their main source of food throughout the week," Titus said. "As students across southern Nevada start their week long spring break, far too many of these young men and women will go hungry without access to the school meals they depend on as their main source of food throughout the week."
"Vacation from school should never mean hunger for children," she added. "This legislation will fill a gap in federal programming and provide funding for nutritious meals to ensure that vacation from school does not mean hunger for children."
Her bill would create a five year program to give food commodities to schools, food banks and other eligible institutions that would deliver food to hungry kids on weekends and school holidays. Titus introduced similar legislation in the last Congress.
Her new bill comes on the heels of complaints about the federal government's nutrition standards for food sold on school grounds. Many say those standards are keeping kids hungry, since they don't always provide every student with enough calories.
The legislation is supported by 10 other Democrats: Reps. Ted Deutch (Fla.), Marcia Fudge (Ohio), Raul Grijalva (Ariz.), Brenda Lawrence (Mich.), Gwen Moore (Wis.), Charlie Rangel (N.Y.), Bobby Rush (Ill.), Terri Sewell (Ala.), Juan Vargas (Calif.) and Del. Eleanor Holmes Norton (D.C.).
Last year, Sen. Patty Murray (D-Wash.) proposed a bill that would keep the federal government feeding kids over the summer, when school is out for several weeks. "[D]uring the summer, hunger goes up in this country about 34 percent for families with school-aged kids," Murray said.