Egyptian security forces said they uncovered a tunnel nearly 2 miles long running under its border with Gaza, the longest one found since a recent Egyptian crackdown on smuggling.
The independent Palestinian news agency Ma'an reported that the tunnel ran under the yards of three homes in Gaza and was dug some 10 feet underground.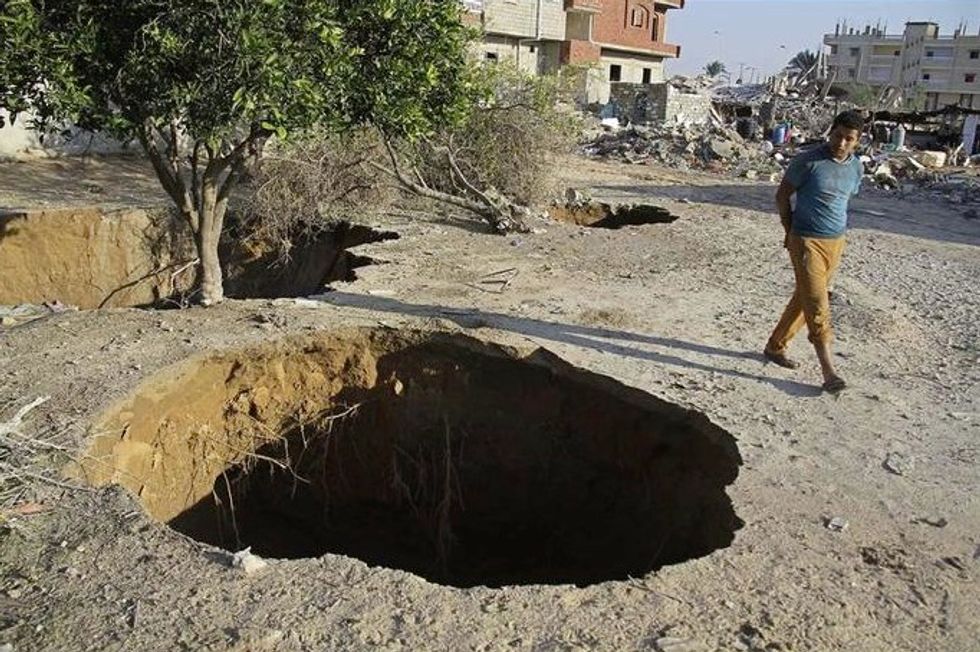 A young man walks by holes made by the Egyptian military to destroy smuggling tunnels connected to Gaza, in the Egyptian side of the border town of Rafah, northeast of Cairo, Egypt, Nov. 7, 2014. (AP Photo/El Shorouk newspaper, Ahmed Abd El-Latif)
The unnamed military sources told the Palestinian news agency that the tunnel was being used for smuggling weapons and civilian goods as well as allowing individuals to secretly pass under the border.
With strict Israeli controls on the movement of weapons and construction materials into Gaza, the Palestinian terrorist group Hamas has taken to relying on sophisticated tunnels to smuggle weapons and consumer goods. It used is tunnel system under the Gaza border to attack Israeli military troops inside Israel during last summer's hostilities.
After the 2013 coup that removed Muslim Brotherhood-linked President Mohammed Morsi from power, the new government in Egypt ordered the tunnels that Palestinians had dug to access Egypt be sealed or demolished.
As part of its efforts to combat the tunnel phenomenon, Egypt recently demolished more than 1,000 houses in Rafah along the Gaza border to set up a buffer zone extending beyond the reach of tunnel exits.
The crackdown comes amid Egypt's battle with Sinai-based militants that have targeted security forces, Christians and Israelis over the border. In November, the extremist group Ansar Beit al-Maqdis pledged loyalty to the Islamic State group.
UPI reported that the longest tunnel found by Egypt before Sunday was nearly a mile and a half long, discovered two weeks ago.