A dramatic high-speed chase in Spring, Texas, came to an end on Monday after the suspect exited his vehicle and broke into an unsuspecting woman's home. KPRC-TV's news chopper captured the tense moment on video.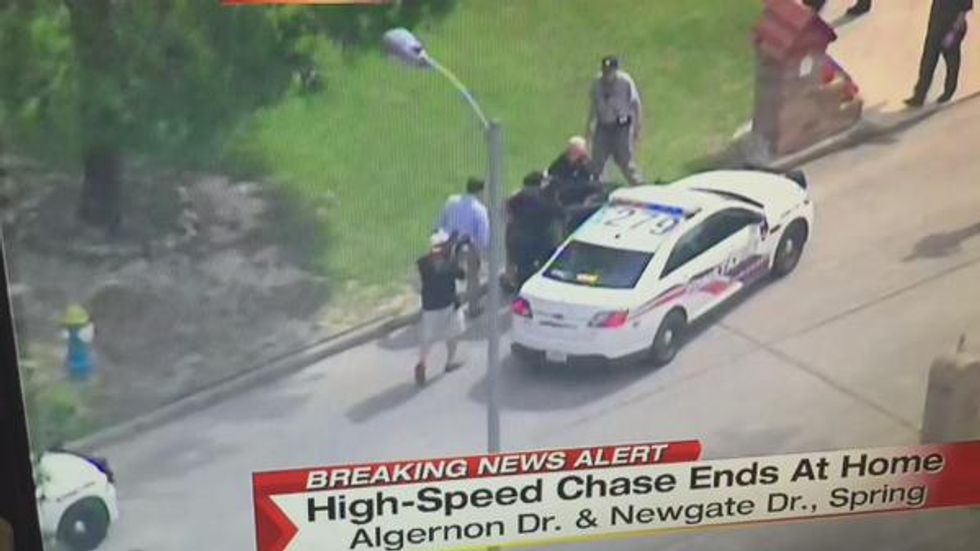 (Screengrab via KPRC-TV video)
The suspect, identified as Nemesio Magotna, fled officers and led them on a chase lasting over an hour. He was apprehended roughly 10 minutes after exiting his vehicle and running from officers on foot.
Magotna was reportedly wanted for burglary of a motor vehicle. Watch the video below:
More from KPRC-TV:
The pickup truck being pursued reached speeds of 90 miles per hour. The chase started on Cypresswood Drive near Treschwig and stayed in that area for the majority of the pursuit. Magotna led constables on the Hardy Toll Road, residential areas and has raced through multiple parking lots in an attempt to evade authorities.
Several Spring Independent School District schools nearby were briefly locked down during the high-speed chase.
---