It's a movie moment: You reach your car just in time to see it being loaded on a tow truck and driven away, despite your best efforts to get let off the hook — literally.
One driver in Chicago though didn't stop at begging. He took the matter a step further.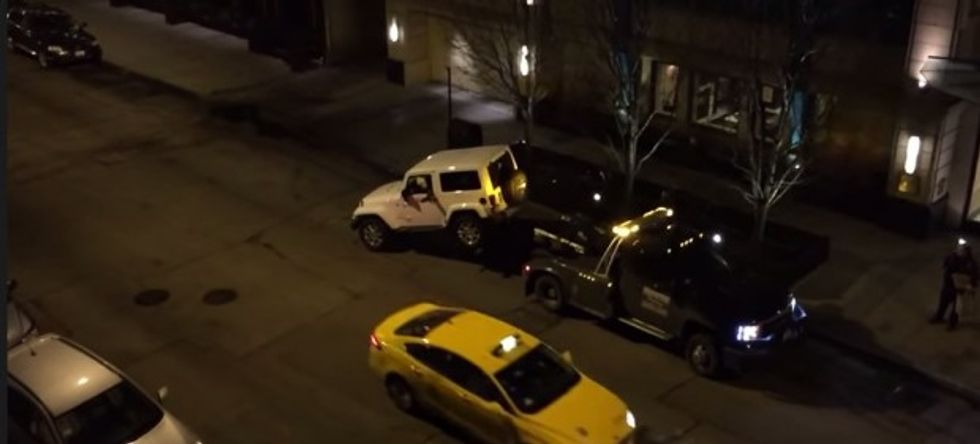 Image source: YouTube
Though his white Jeep was already hooked up to the tow truck, the driver just plows off of it with a thud, the video captured by YouTube user Tony Marengo shows.
"We are used to seeing cars get towed out of the Walgreens parking lot next door with lightning speed," Marengo wrote, noting that it's the location at Clark Street and Ontario Street in the River North neighborhood. "Usually not with a person in the car, though. And this guy definitely didn't want to get towed."
Just watch (Content warning: some strong language):
"Oh my God," a woman was heard saying in the video when the man drove himself off the truck.
The driver could be heard saying something to the tune of, "Buddy, I'm here." But it's unclear if he was in the car to begin with or if he jumped in after it was already on the hook.
After leaping from the tow truck, the Jeep's driver sped off down the street.
WBBM-TV reported that the tow truck company would not issue a comment and noted that even though it enlarged the video, it was unable to see the vehicle's license plate number.
(H/T: KSTU-TV)
—
This story has been updated to correct a typo.