Kristi Gordon, a meteorologist for Global BC in Vancouver, knew what to expect with her second pregnancy and actually asked her viewers not to send her hate mail regarding her appearance while she spent nine months growing an entire human being.
Yet, send hate mail criticizing how she looked they did, and Gordon took to the air recently to share some of their harsh words:
One email simply said "Hussy!" and another "BUY some DECENT clothes and have more respect for the unborn child, you're not the first pregnant woman. OMG."
"We were expecting this because it happened to me last time when I was pregnant. As I got bigger, I started getting more and more bad notes and emails from people," Gordon said.
"You can't completely hide something like this," Gordon added, standing up and turning to the side.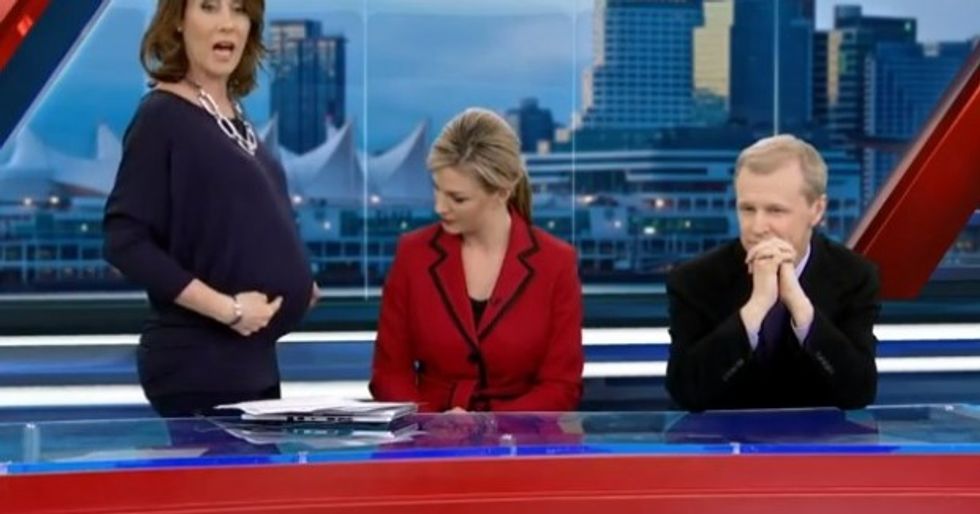 Image source: YouTube
Watch the anchors and Gordon read snippets from the letters:
"It wasn't until I went to bed that I realized, despite me thinking that these guys are crazy ... it's amazing when you say something mean about someone, it still affects them," Gordon said.
In a post on the news site, Gordon wrote that she's not going to stop working while pregnant nor is she going to spend more money on maternity clothes, "especially muumuus."
"But I did learn a good lesson," she said of how the hate mail affected her. "No matter how rational or confident you are, the mean things people say can have an impact. The negative thoughts seep in when you don't even realize it. Even a little joking comment could do some damage. Hopefully this can help us all be more aware of our impact on others."
Since sharing her thoughts, Gordon said she has received numerous messages supporting her attire and overall pregnant look.