Teens and their parents are hitting the malls and boutiques to find a great deal on high school prom dresses, but if you take your search online, take heed.
That "bargain" price could be misleading, WITI-TV reported.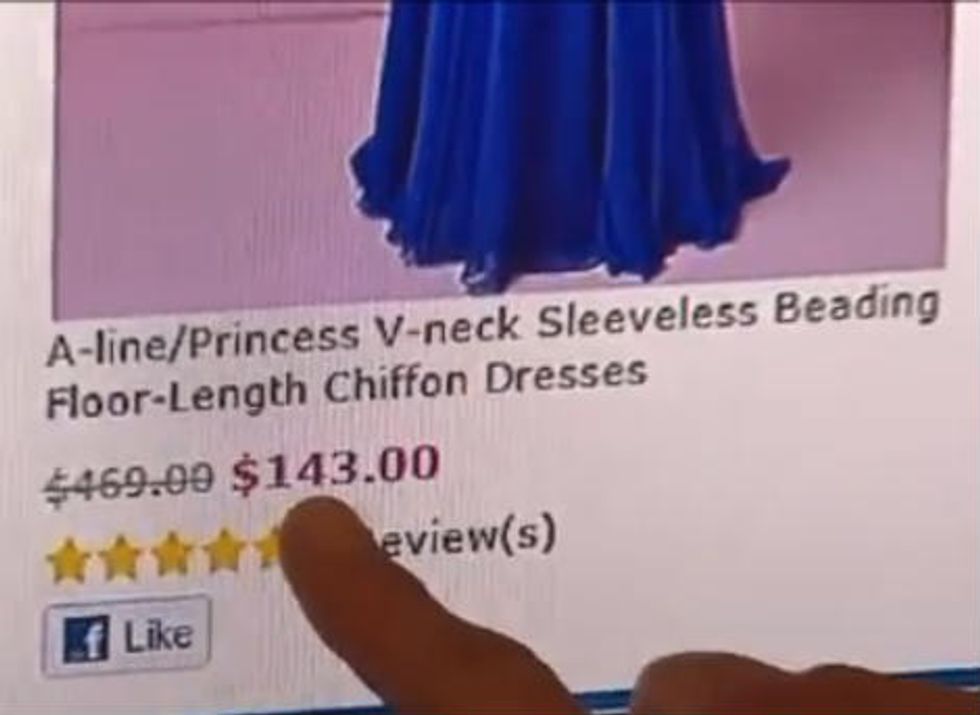 Image source: WITI-TV
Online scammers are taking advantage of the hallowed high school tradition by advertising designer dress photos for prices well below what the gowns normally would sell for, then shipping dresses that aren't anything like what they advertised.
Jordan Winkler said she went online looking for a more affordable dress and found one discounted for $300. She ordered it – kind of: Winkler said the dress she got in the mail didn't match the one she ordered.
Another unsuspecting shopper told WITI that the dress she received wasn't the one she ordered, either. She tried to alert the sellers, she said, but could't get anyone on the phone: "We called the number on the website and they directed us to customer service and countless times I tried to call and get through to somebody. Nobody would answer. Nobody would return my calls."
But the people who are buying into the scam aren't the only ones who are fed up. Bridal shop owner David Gaffke has had enough, too.
"They show me the dress that they dig and I take a look to see if I have anything comparable and then I notice this unreasonable cost that's listed on the dress," Gaffke told WITI.
The scam hasn't gone unnoticed, however. The Better Business Bureau is well aware of what's happening.
The Bureau's Steve Bernas warned that even if customers are vigilant in researching online vendors first, if they look up a seller and come up blank, that too could be telling.
Finding nothing about a business, Bernas said, could be the "tip off to the rip off."
So what can you do to make sure you don't become the next victim? WITI gave a few things to look out for, like if the website doesn't show the designers' names, is based outside of the U.S., or if the customer service phone number is difficult to track down.
—
Follow Jon Street (@JonStreet) on Twitter