In 1998, Vijay Chokal-Ingam was "determined to become a doctor," but his 3.1 GPA significantly reduced his chances. When he realized his application wouldn't cut it, he came up with a back-up plan — he pretended to be black.
Chokal-Ingam, brother of famous actress Mindy Kaling, said he "knew that admission standards for certain minorities under affirmative action were, let's say… less stringent."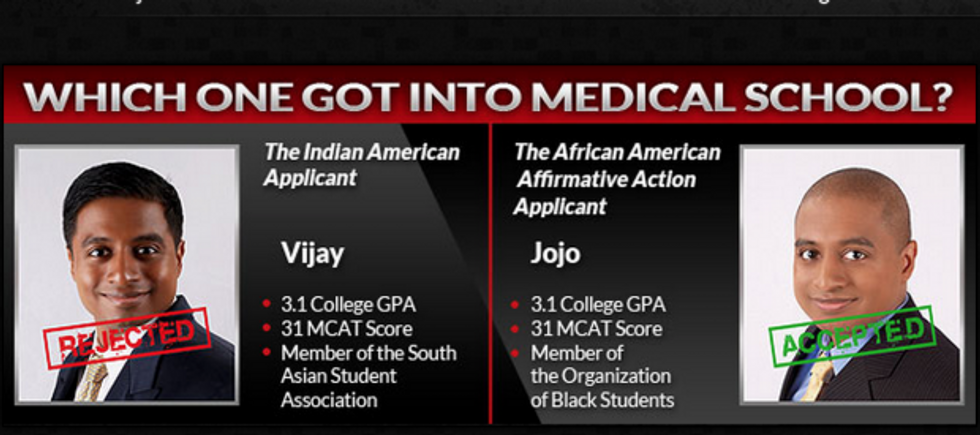 AlmostBlack.com
In a blog post, Chokal-Ingam explains how he ended up getting into the St. Louis University School of Medicine despite his low GPA and MCAT score:
So, I shaved my head, trimmed my long Indian eyelashes, and applied to medical school as a black man. My change in appearance was so startling that my own fraternity brother didn't recognize me at first.  I even joined the Organization of Black Students and started using my embarrassing middle name that I had hidden from all of my friends since I was a 9 years old.

Vijay the Indian-American frat boy become Jojo the African American Affirmative Action applicant to medical school.
#affirmativeaction is DISCRIMINATION; it's a lie to call it else. I got into medical school with a 3.1 GPA as black. http://t.co/wya52LWz7u

— Vijay Chokal-Ingam (@VijayIngam) March 5, 2015
Palm Beach County's #affirmativeaction program: If everyone lied about their race like me, it wouldn't work! http://t.co/zvT3MoHKo7

— Vijay Chokal-Ingam (@VijayIngam) March 14, 2015
Chokal-Ingam ended up dropping out of medical school.
He has since become an activist against affirmative action. He is also apparently in the process of writing a book, titled, "Almost Black – The True Story Of An Indian American Who Got Into Medical School Pretending To Be An African American."
(H/T: Twitchy)
---