A Missouri man trying to avoid police instead wound up getting hauled off from where one local news anchor described as a "very nasty place," wearing nothing but his underwear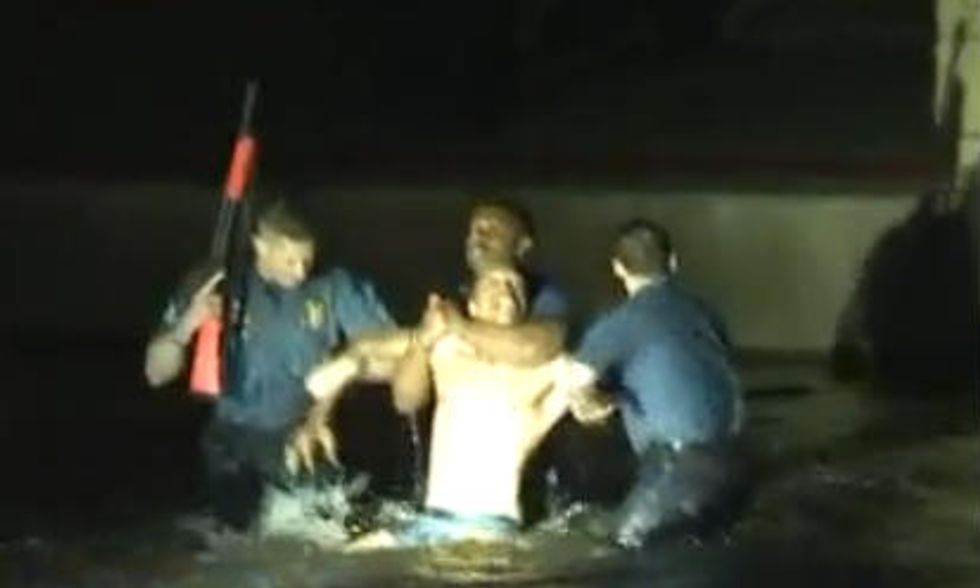 Image source: WDAF-TV
Police in Kansas City said they approached a man sitting in his car and blasting music. When they asked him for his ID, he drove away, sending police on a chase.
It wasn't long after that, police say, the man crashed the car into the guardrail of a bridge and fled the scene. He was then spotted swimming in the creek below the bridge in his skivvies.
Police swarmed the edges of the waterway and tried to convince the man to get out. He then allegedly threatened them with a log. Police made their way into the creek, walking right up to the man in the knee-high water as he stumbled to gain his own footing.
Police say that once they got the man into custody he began complaining that he had broken his leg. He was transported by ambulance to a nearby hospital for treatment.
The bizarre chase lasted about 45 minutes, police said.
It's not clear whether the man was impaired during the incident. Police at first wouldn't comment on what, if any, charges they might pursue against the man but later told reporters that he will face city charges.
(H/T: WDAF-TV)
–
Follow Jon Street (@JonStreet) on Twitter