Following a trend that's been occurring throughout Washington state, about 150 students at a Seattle high school are set to boycott their Common Core exam — with approval from some of the school's teachers.
A year ago, only about 20 students boycotted the Smarter Balanced exam at Garfield High School, but that number is set to skyrocket this year, the Seattle Times reported.
Two other high schools have also gotten high refusal rates from parents, Seattle school district spokeswoman Stacy Howard said. Howard said she does not know what accounts for the increased number and said there would not be a final tally until after the testing season wraps this school year.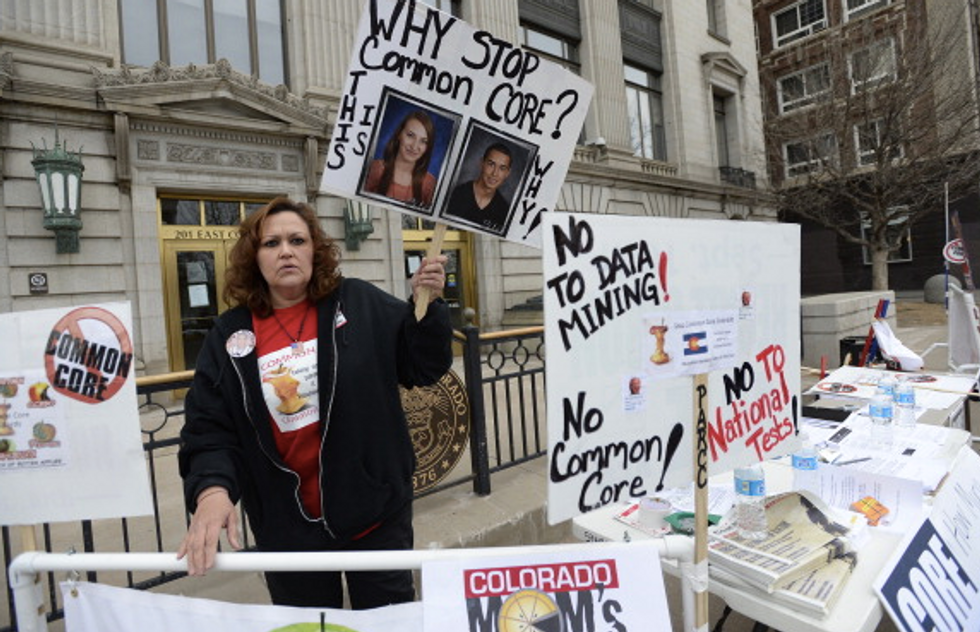 A Common Core opponent holds up a sign with photos of her high school children in front of the Colorado Department of Education offices, February 12, 2014. (Denver Post Photo by Cyrus McCrimmon)
A group of Garfield High teachers planned to do a news conference Tuesday expressing their objections to the tests as a measure of school, student and teacher performance.
From a political perspective, while Washington is a solidly blue Democratic state, opposition to Common Core has managed to unite conservatives in favor of local control with teachers unions that oppose overemphasis on testing.
The Common Core K-12 math and English standards were established by the National Governors Association and the Council of Chief State School Officers. Though not a federal program, the U.S. Department of Education has tied "Race to the Top" grants with adopting the standards.
States that have adopted Common Core issue either the Smarter Balanced tests or the Partnership for Assessment of Readiness for College and Careers, or PARCC, exam. TheBlaze has previouslyreported on controversies in other states where student have not been able to opt out.
A survey of 21 states finds that between 60 percent and 70 percent of the students taking the Smarter Balanced exam will fail the first time, the Seattle Times reported.
Members of the Washington state school board have criticized the Smarter Balanced test, while two bills in the state legislature to dump the test failed to pass.