He holds the whirring blade inches from their window and taunts, "You like that, hey?"
It's a "terrifying" case of road rage.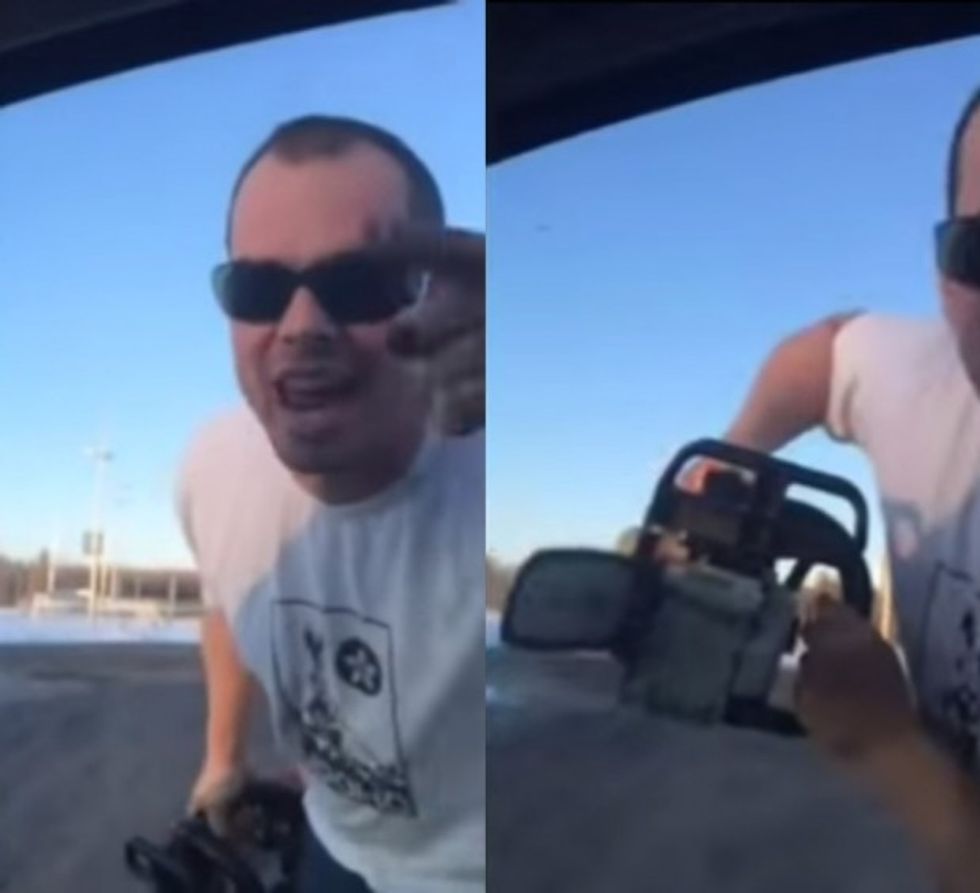 This 37-year-old man has been arrested after he was filmed brandishing a chainsaw at a family in a car in Quebec. (Images via YouTube)
A 37-year-old man has been arrested in Quebec, Canada, after he brandished a chainsaw at a family's car, the CBC reported.
Karine Cyr, the mother sitting in the car's passenger seat, caught the whole encounter on video.
"Mama! Mama!" Cyr's two children scream as the man shouts through the window and revs his chainsaw.
Watch the horrifying video below:
According to Cyr, the incident happened because her husband, Alexandre Hermenier, noticed a car driving erratically and decided to follow it to get the license plate information.
Suddenly, the family was on a dead-end road with the other car blocking them in.
"It was a terrifying situation," Hermenier told the CBC.
The family said they were lucky to escape unscathed.
"Everyone will react differently, but I would like to say that if you see dangerous driving, do not follow the driver — the mistake that we made with two children in the back seat," Cyr told the CBC. "We regret it tremendously. If it happens to you, pull over and just call police."
The family said they were on vacation when the incident happened Sunday evening.
Quebec police said the chainsaw-wielding man was arrested Monday, and that he will face assault charges, and possibly other charges, and is due in court Tuesday.
—
Follow Zach Noble (@thezachnoble) on Twitter