Three would-be thieves apparently thought they could just make off with some honey from a buzzing hive of domesticated honeybees in a tree in Pasco County, Florida.
They were sorely mistaken.
Each of the men received more than 50 stings and needed to be taken to the hospital for treatment on Sunday, WTSP-TV reported.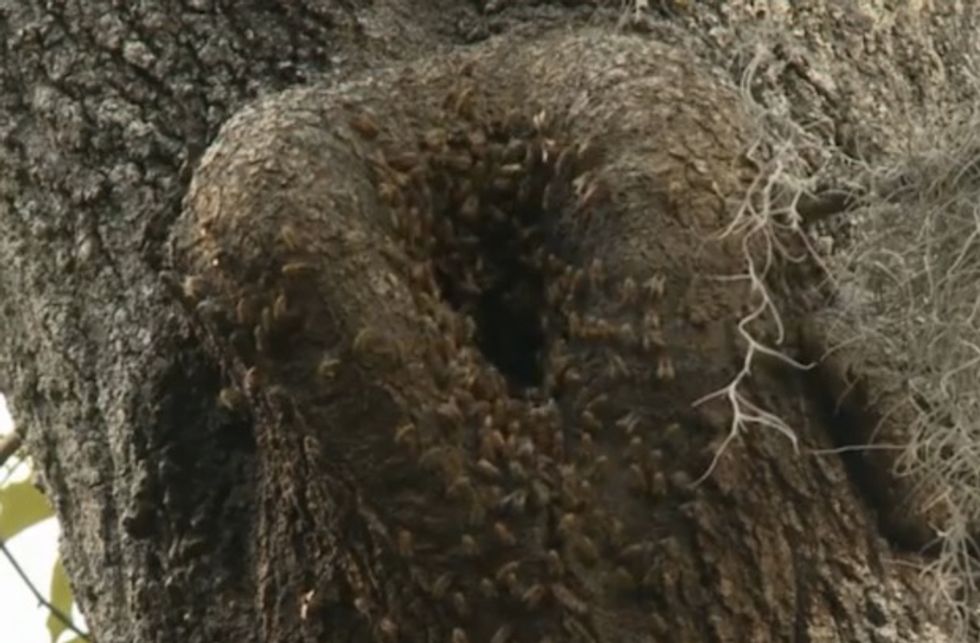 Image source: WTSP-TV
The Pasco County Sheriff's Office said the men grabbed a chunk of honeycomb from inside the tree and the bees attacked, stinging them from head to toe. A woman who heard their screams and came outside was also stung a dozen times.
The hive contained between 20,000 and 30,000 bees, according to WTSP.
Firemen arrived and needed to use a hose to spray water to drive the swarm away before any assistance could be rendered.
"They were covered in bees, their beards, their hair, their clothes…bees were everywhere," neighbor Tom Johnson said.
The three men and the woman were transported to the hospital. The men were admitted, but the woman was able to be released without serious injury.
Johnson said he was nervous just being near the tree.
"It's cheaper to go to the store and get your honey than it is to try to be brave and end up in the hospital," Johnson said. "It's just not worth it."
On Monday, local beekeepers were brought in to remove the hive.
—
Follow Mike Opelka (@Stuntbrain) on Twitter